Since Henry Ford, automobiles have been big part of our culture in the USA. Growing up in a small town, driving (and owning any car) was a rite of passage. With it came an appreciation for performance and, of course, speed. Achieving either (or both) require exceptional attention to detail, which is something we totally get in the business of luxury handbags. Indeed, you never thought there was a relationship between automobiles and handbags, but now you know!
At the apex of automotive performance is Formula One, the most expensive and performance-obsessed form of auto racing. Even if you're not car crazy, "F1" racing is a checklist adventure you just have to see to believe! It's guaranteed to challenge your conception of auto sport, the fans and, frankly, anything associated with four wheels. Indeed, it's exceptional, it's bucket list, and quite likely to blow your mind.
Fortunately, you don't have to be a gearhead to enjoy an authentic, first-class experience, mingling with the famous, the fabulous and the ferocious fans. Many come for the parties, the copious champagne and the see-and-be-seen scene. However, a little techie know-how, can go a long way in making this event even more deliciously racy.
The Cars
Track at the Austin F1 Grand Prix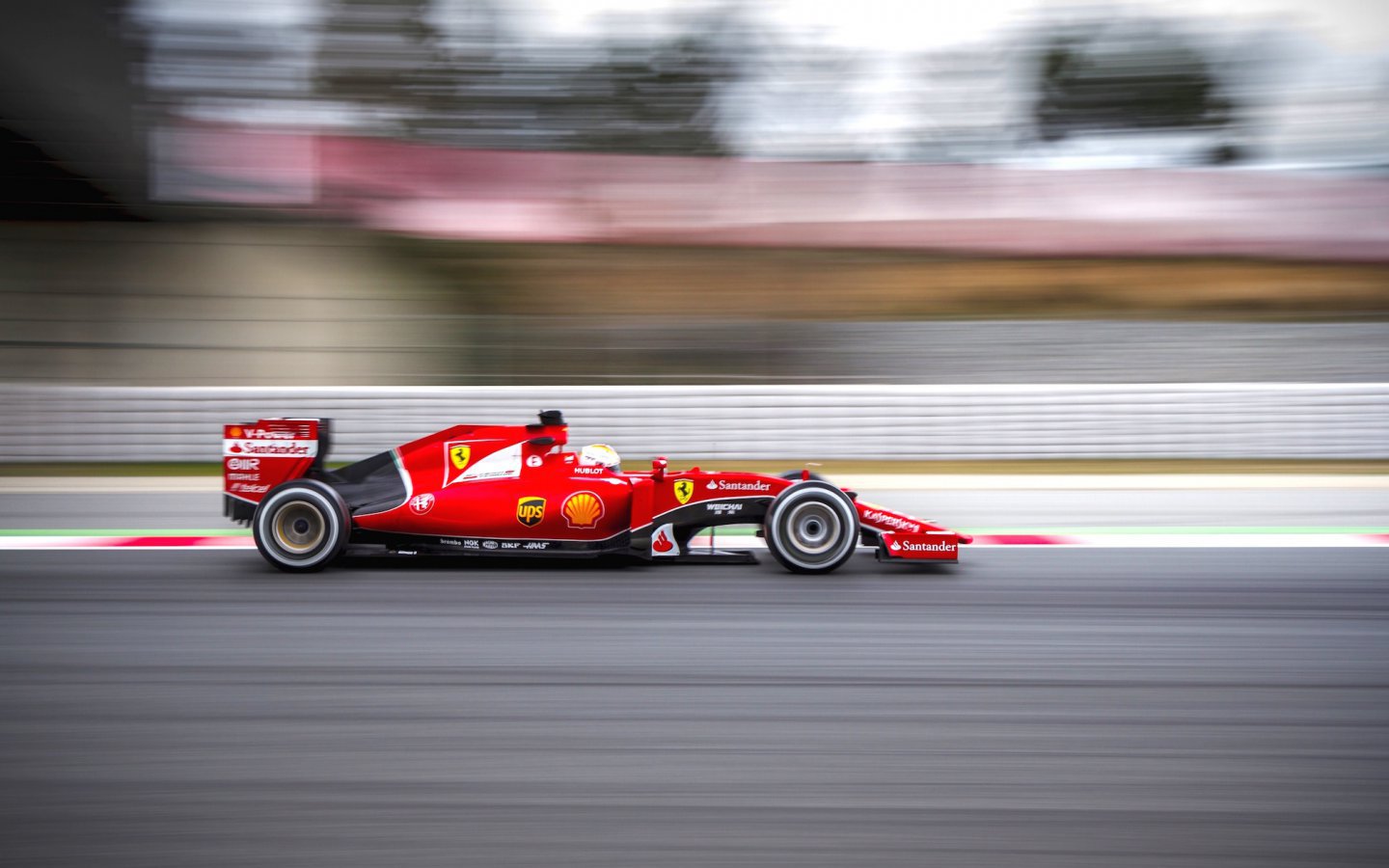 Formula One Car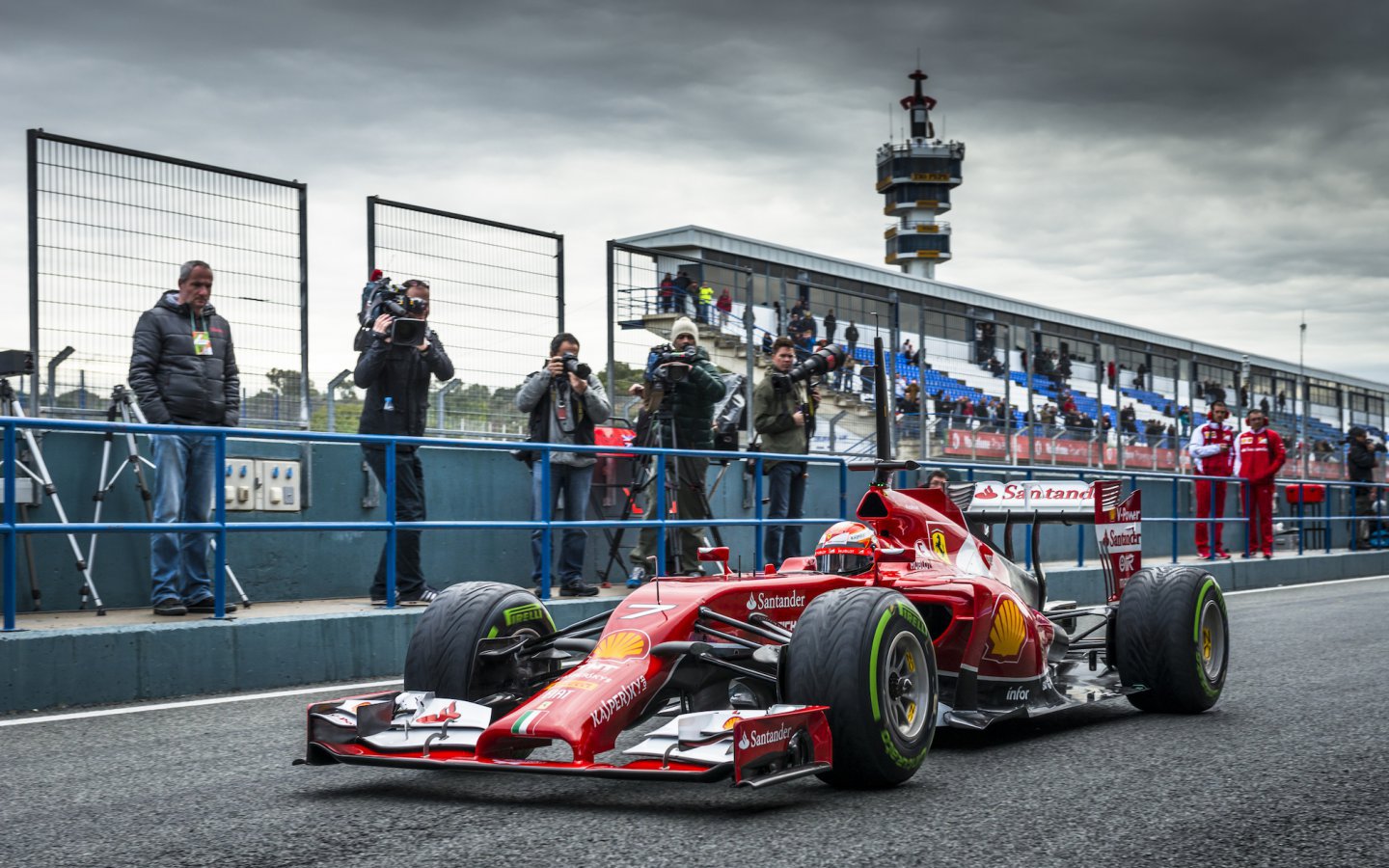 Daniel Ricciardo in his Red Bull RB10 F1 in Jerez, Spain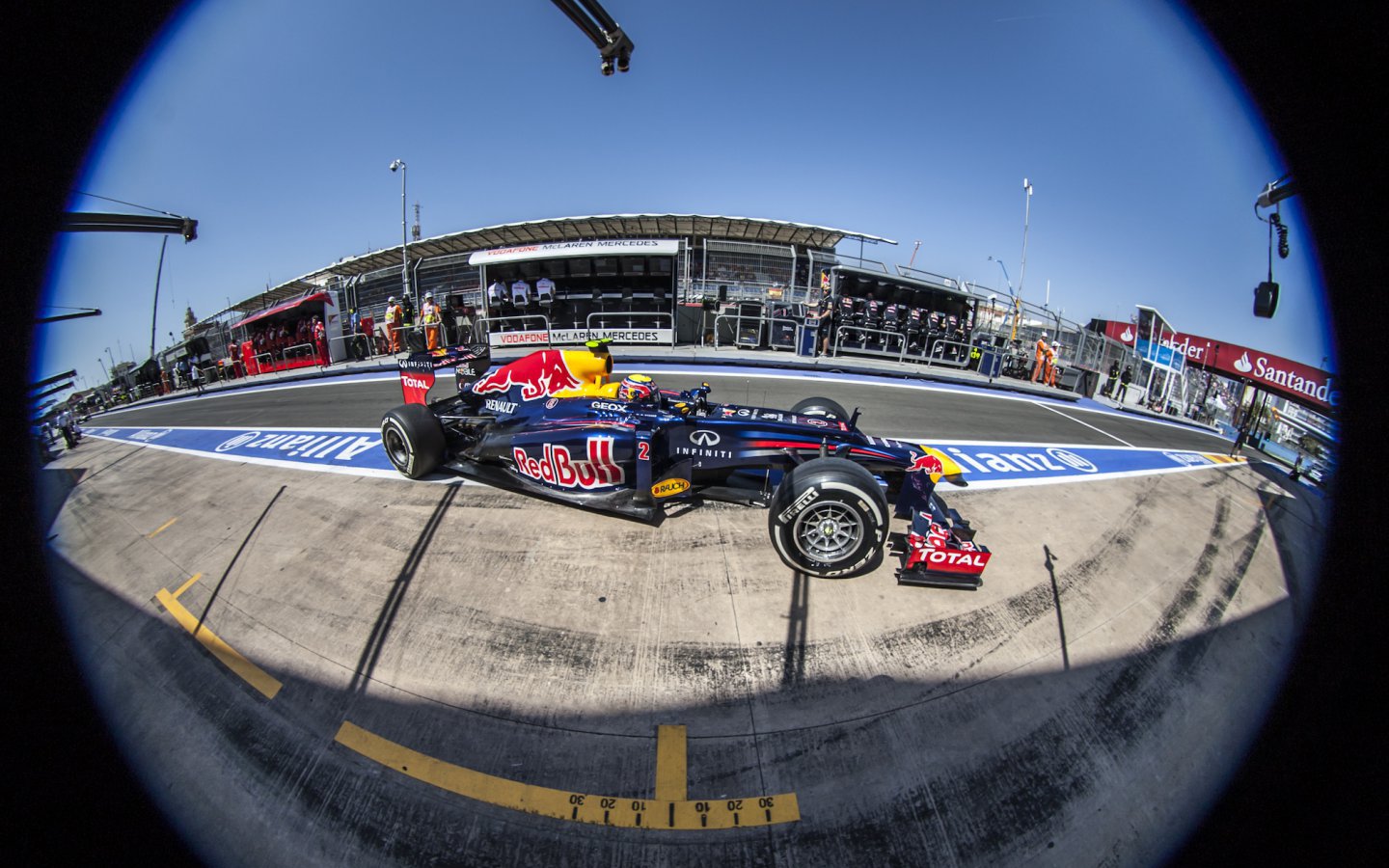 Mark Webber in the F1 Grand Prix of Europe, Valencia Street Circuit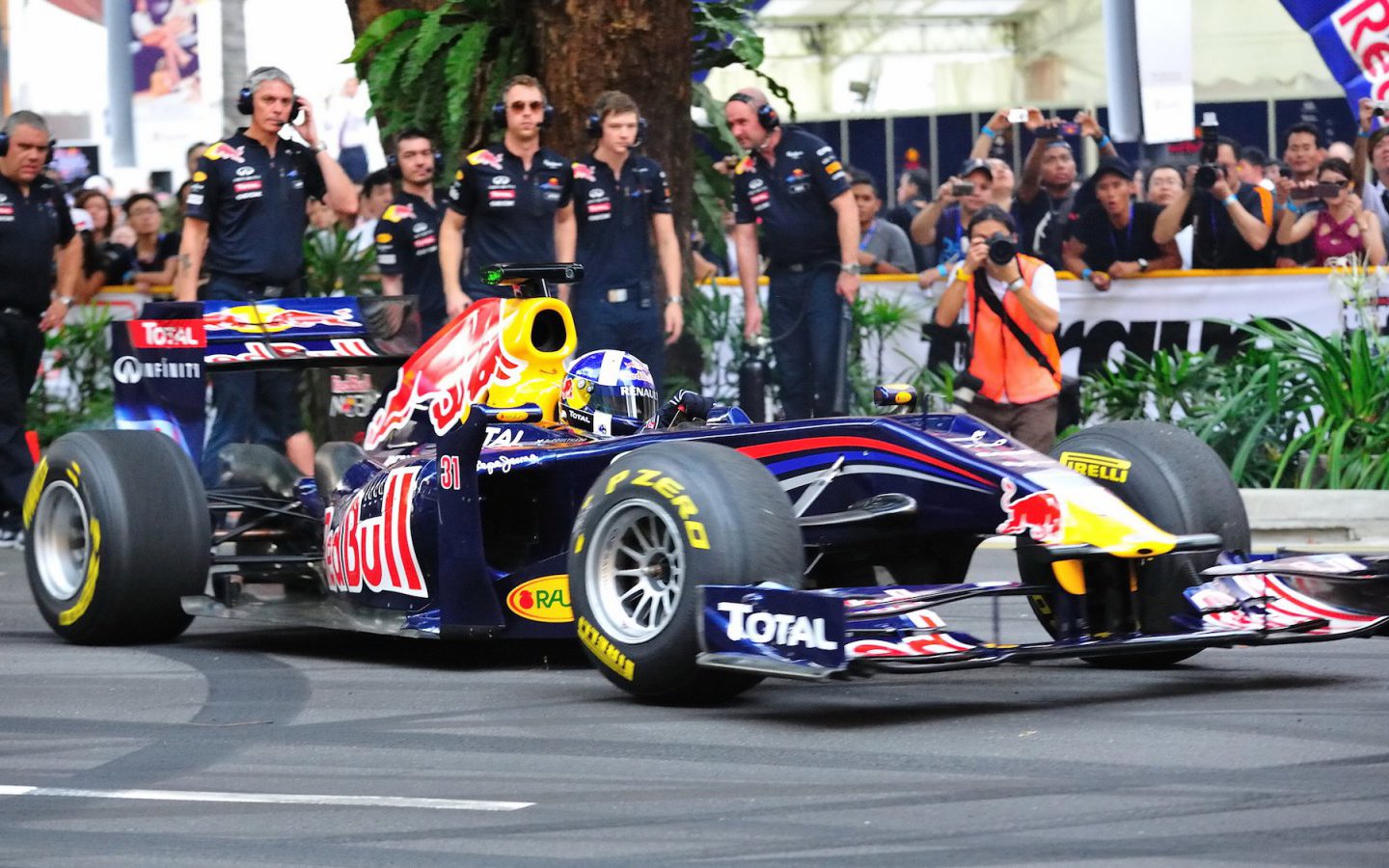 David Coulthard performing donuts in Singapore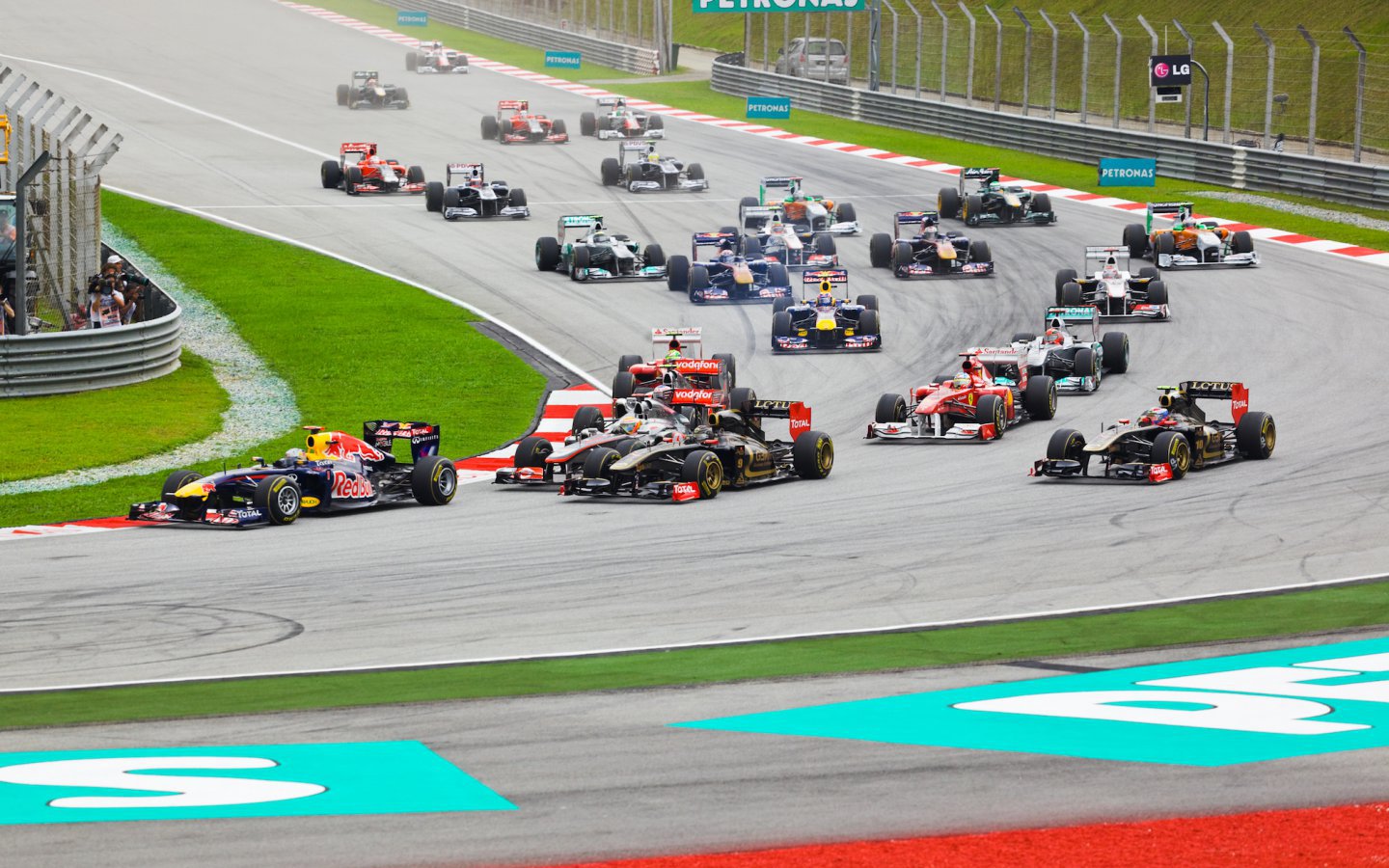 Cars on track at race of Formula One in Malaysia
Let's start with the cars. For those in the know, these creations are as close to art as you'll experience in the world of auto sports. A typical F1 car is made from 80,000 components with absolutely zero tolerance for error. The life of an engine is 2 hours! Not the 20 years of your refined German sedan. The cars weigh less than 1,200 lbs. and accelerate up to 100 mph and back to zero in less than 4 seconds. By comparison, even a Porsche takes almost this long to reach 60 mph — in only one direction!
F1 brakes are built to withstand temperatures of more than 1800°F. In fact, they are so good, and stop a car so fast, that full-speed deceleration is compared to a regular car driving through a brick wall at 180+ mph. The g-force generated in an average corner is enough for most people to pass out. Clearly, this is not your father's Ford.
The technical innovation applied to these cars is appropriately likened to research at NASA (or Space-X these days). Even a mid-tier car costs more than $100 million to make and run for a season. Thankfully, all this ingenious effort and money isn't wasted on fun alone, as the results find their way down to our daily drivers for years to come, from materials, to safety, to performance and even gas mileage improvements.
Drivers, Crew & Co.
Tight Fit: Lewis Hamilton in Barcelona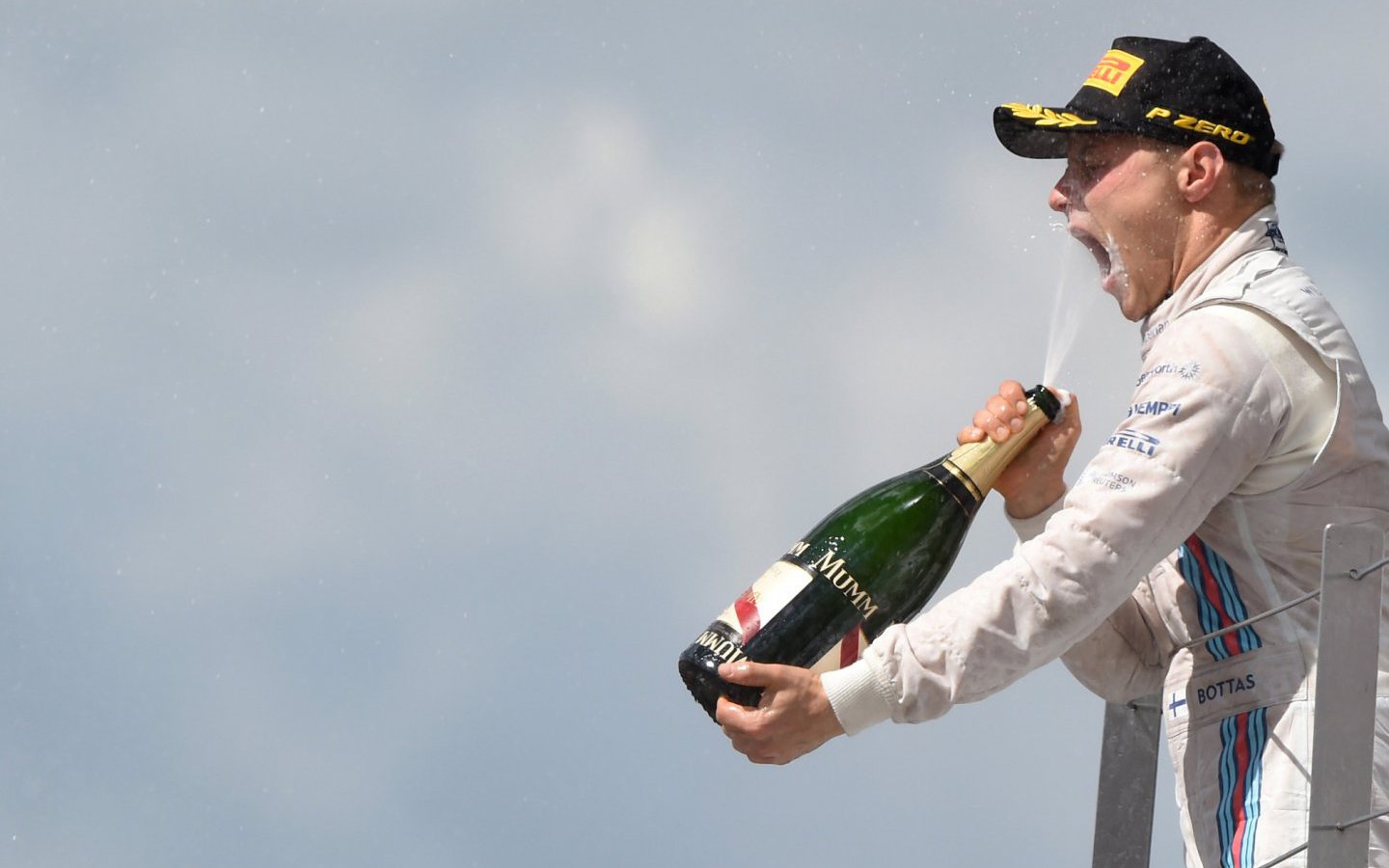 Champagne Anyone? Valterri Botas in 2014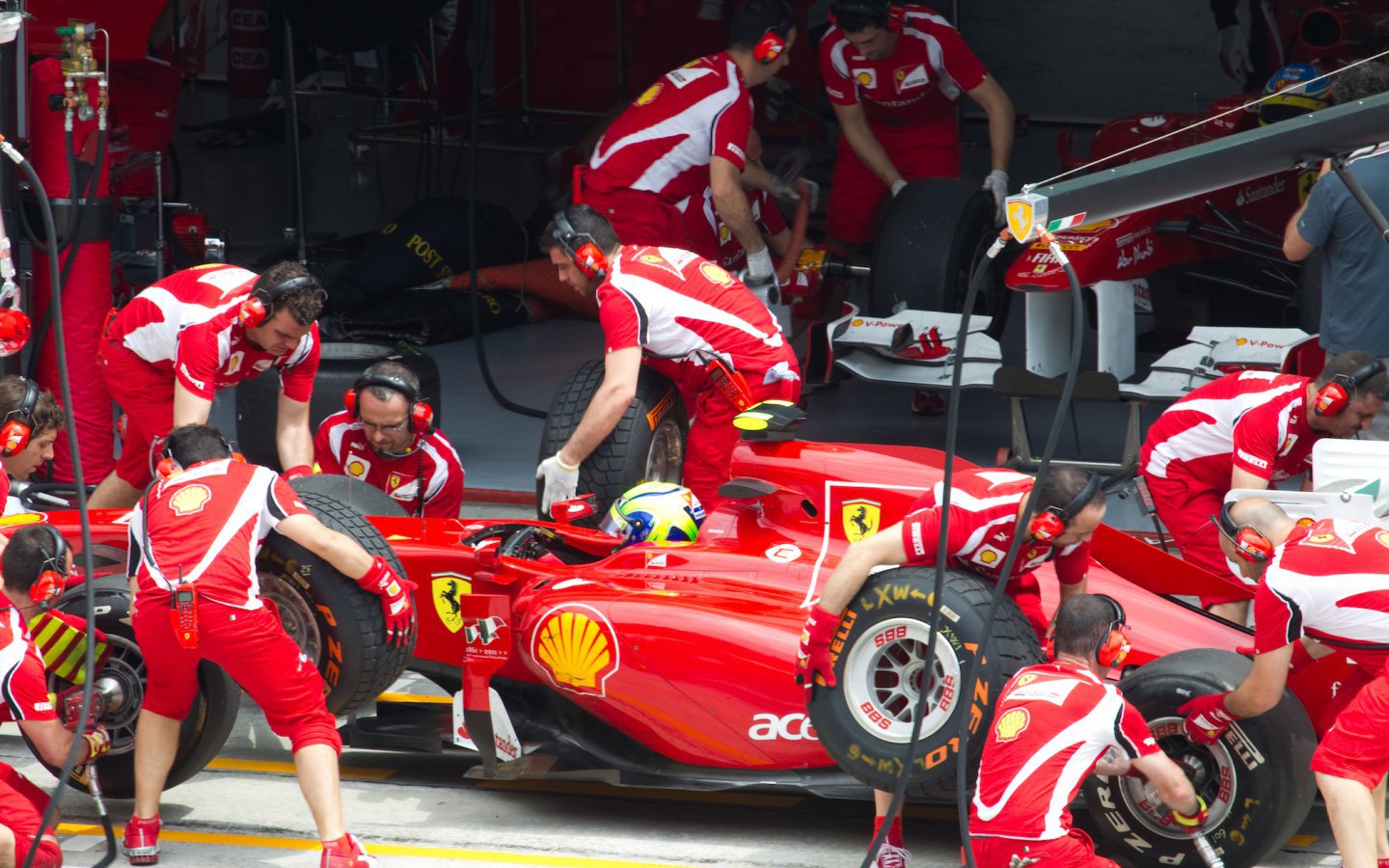 This is what a pit stop looks like.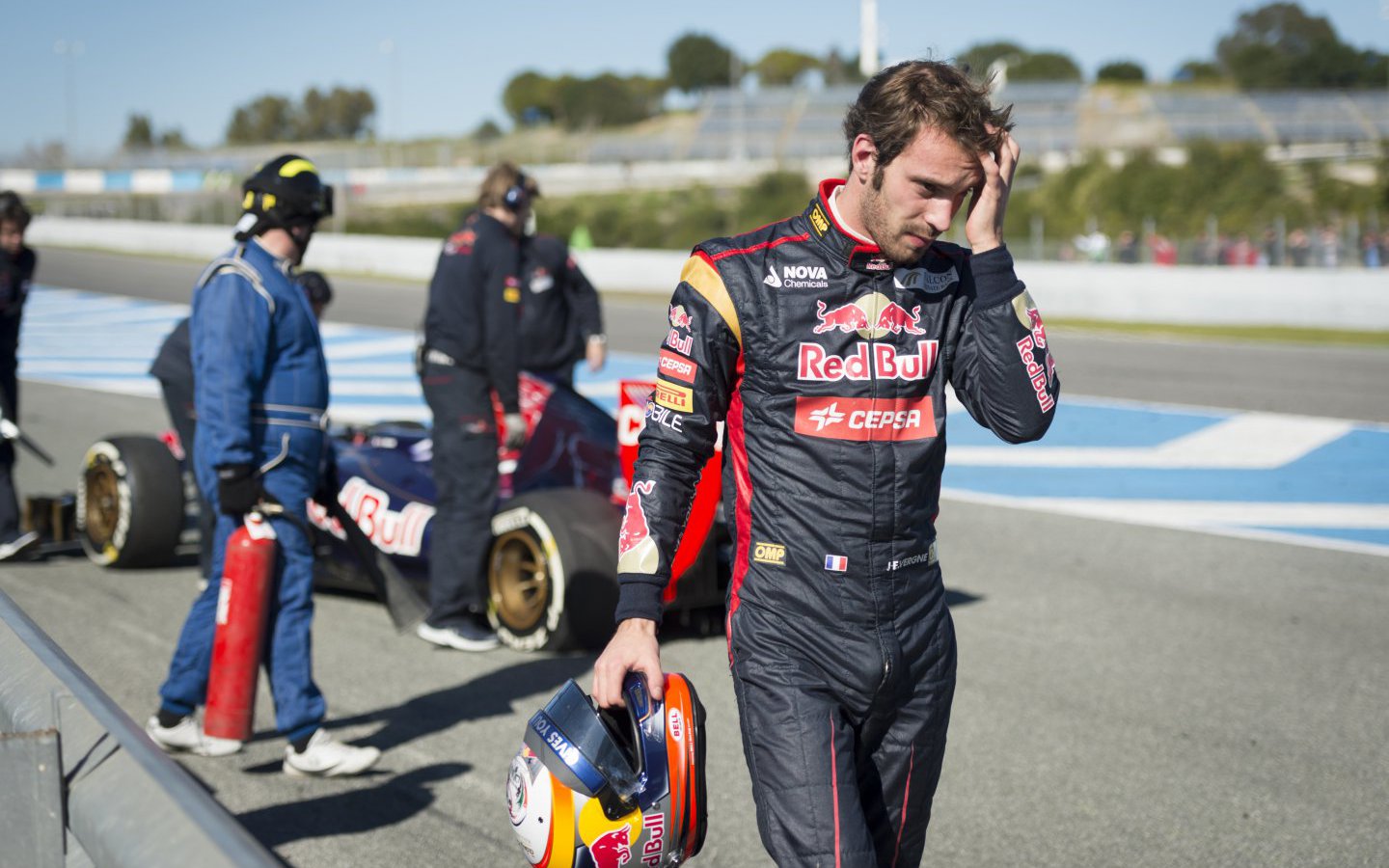 Jean-Eric Vergne testing his Torro Rosso STR8 F1 car in Andalucia, Spain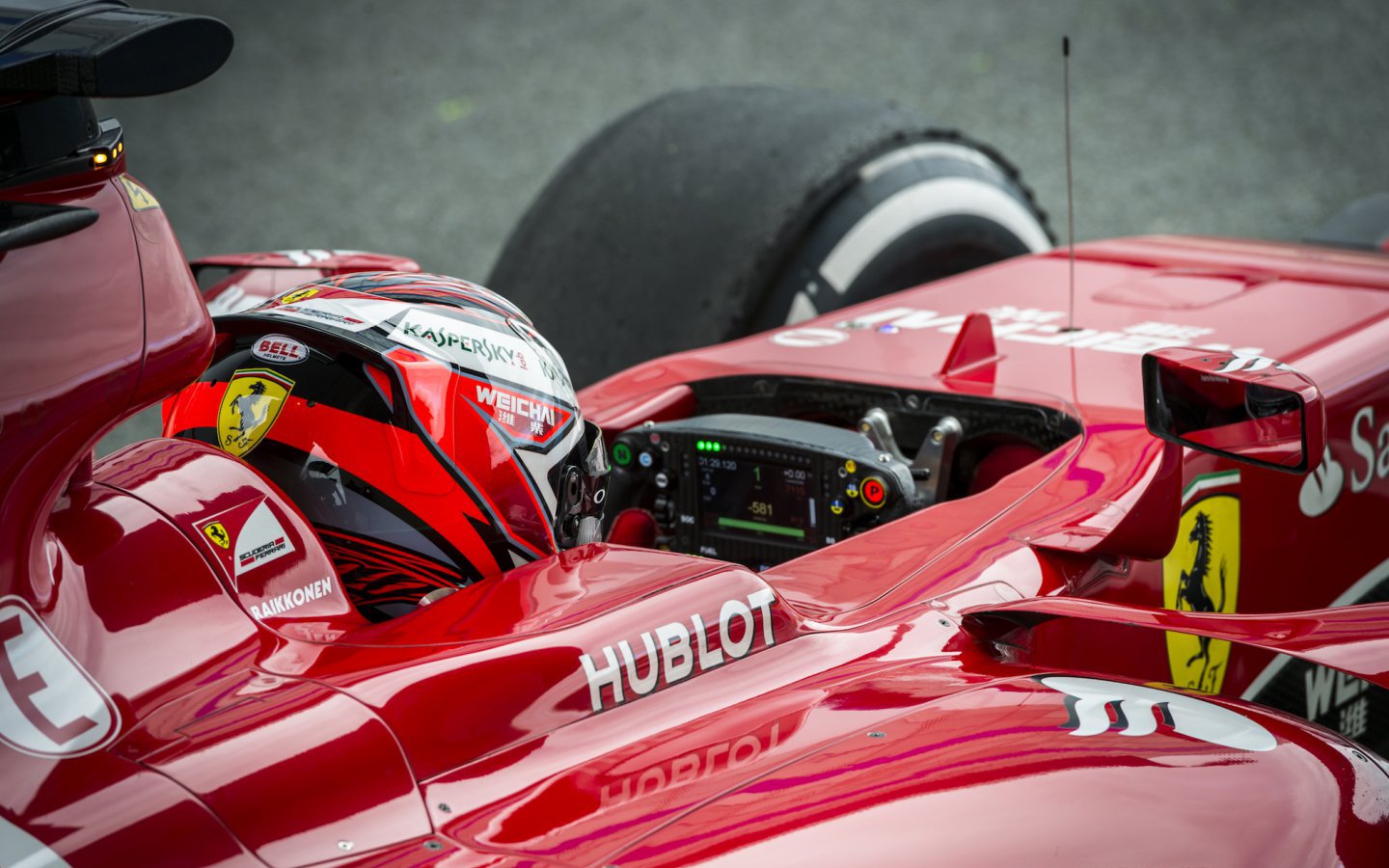 Kimi Raikkonen testing his Ferrari SF15-T F1 car on the Jerez Circuit in Jerez, Spain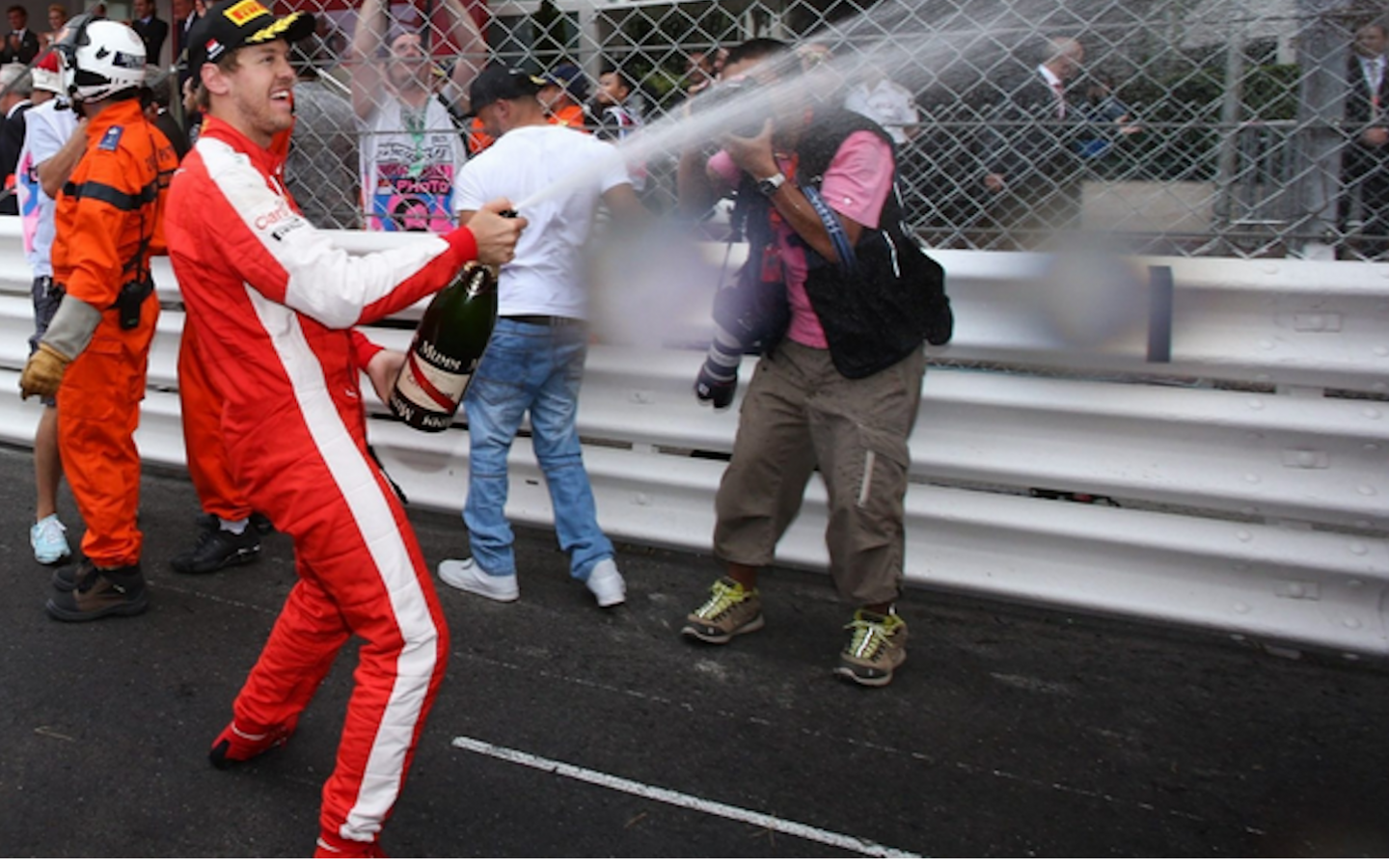 Sebastian Vettel celebrates!
Formula One officially started in 1950, as the world championship for single seat, open wheel racing. Its roots date to the European Grand Prix championships of the 1920s and 1930s. The championship now involves two contests: one for the drivers , and one for the constructors — such as Ferrari (Italy), Mercedes (Germany), Red Bull (Austria), Williams and McLaren (Great Britain). The "formula" in the event's title refers to a very strict set of rules all participants (drivers and manufacturers) must abide by.
Races, or Grand Prix, are now held around the world on custom-built road tracks and adapted city locales like Monaco. Twenty-one races comprise the 2018 F1 schedule for what is the world's most eminent auto racing happening; four are still held on the same tracks used during the inaugural 1950 season.
Alas, someone has to drive these land rockets! The drivers are among the highest paid, best-conditioned athletes in the world, focused on one goal while battling extreme vibration, heat, dehydration, muscle fatigue, acceleration, deceleration and G forces. It's not uncommon for a driver to lose 10 lbs during a race and be subjected to more G forces than a jet-fighter pilot. Driving Formula One is reported to be among the most difficult athletic pursuits in the world of sport today.
The Scene
Monaco: One of the most prestigious auto races in the world.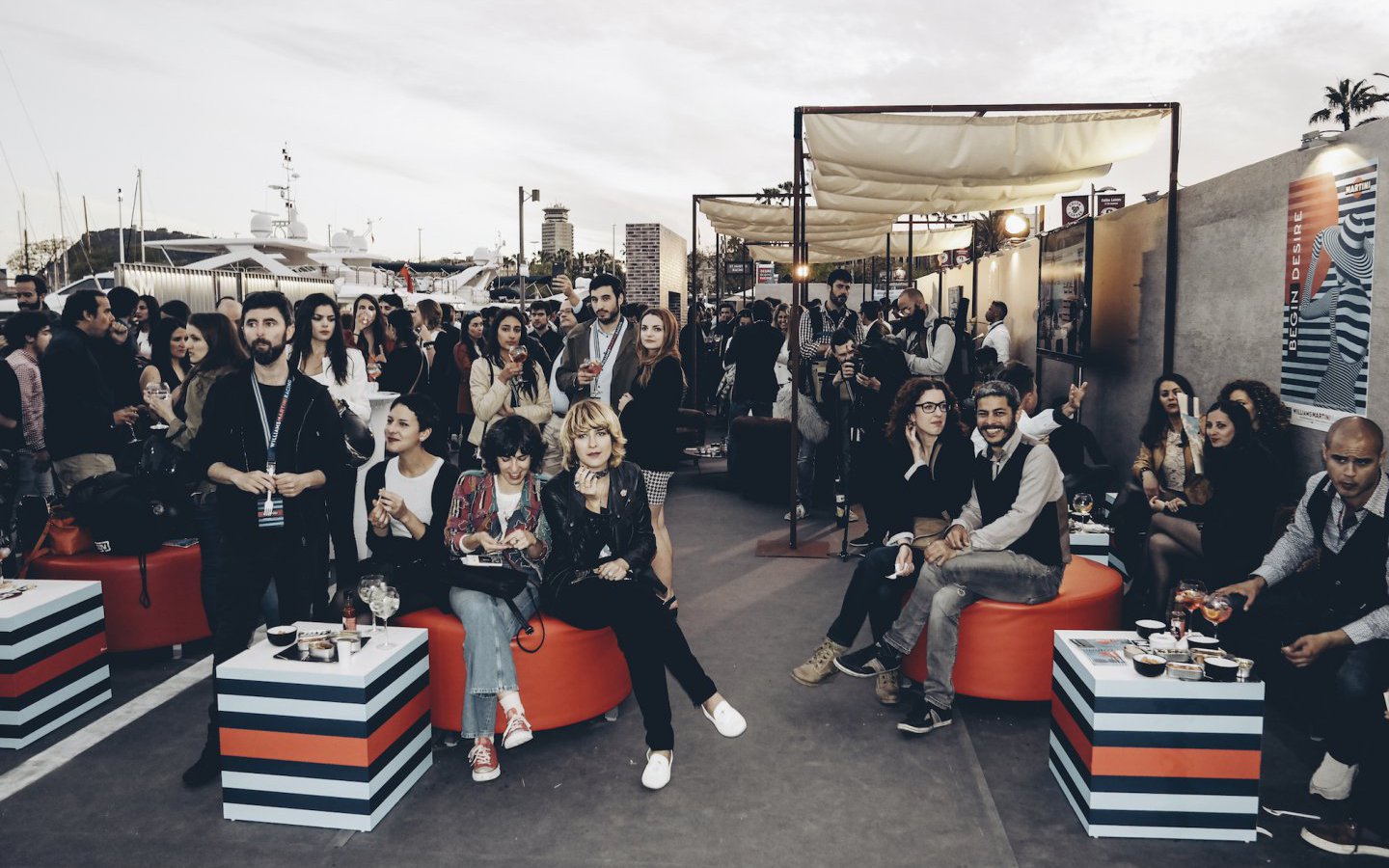 Barcelona Crowd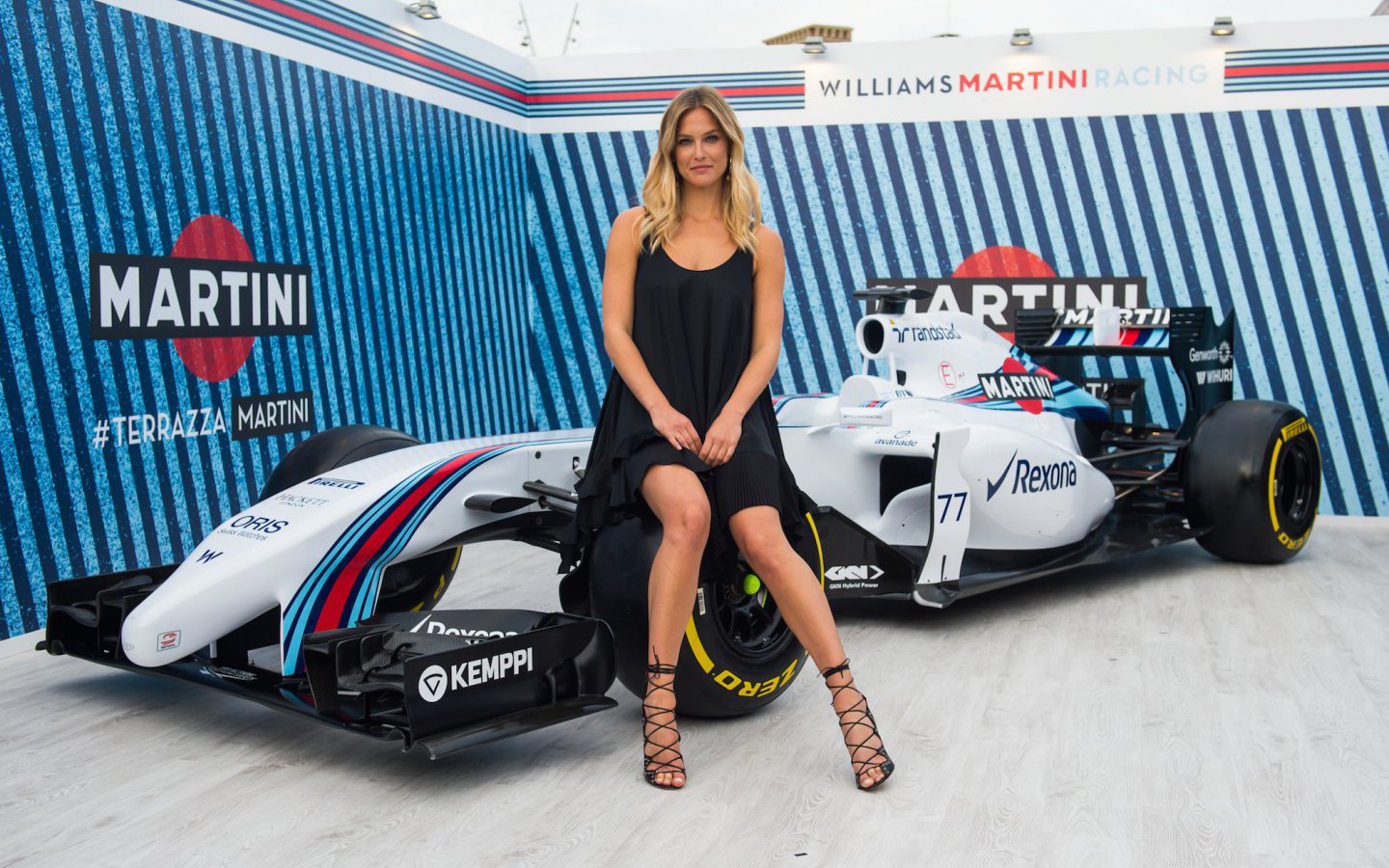 Model Bar Rafaeli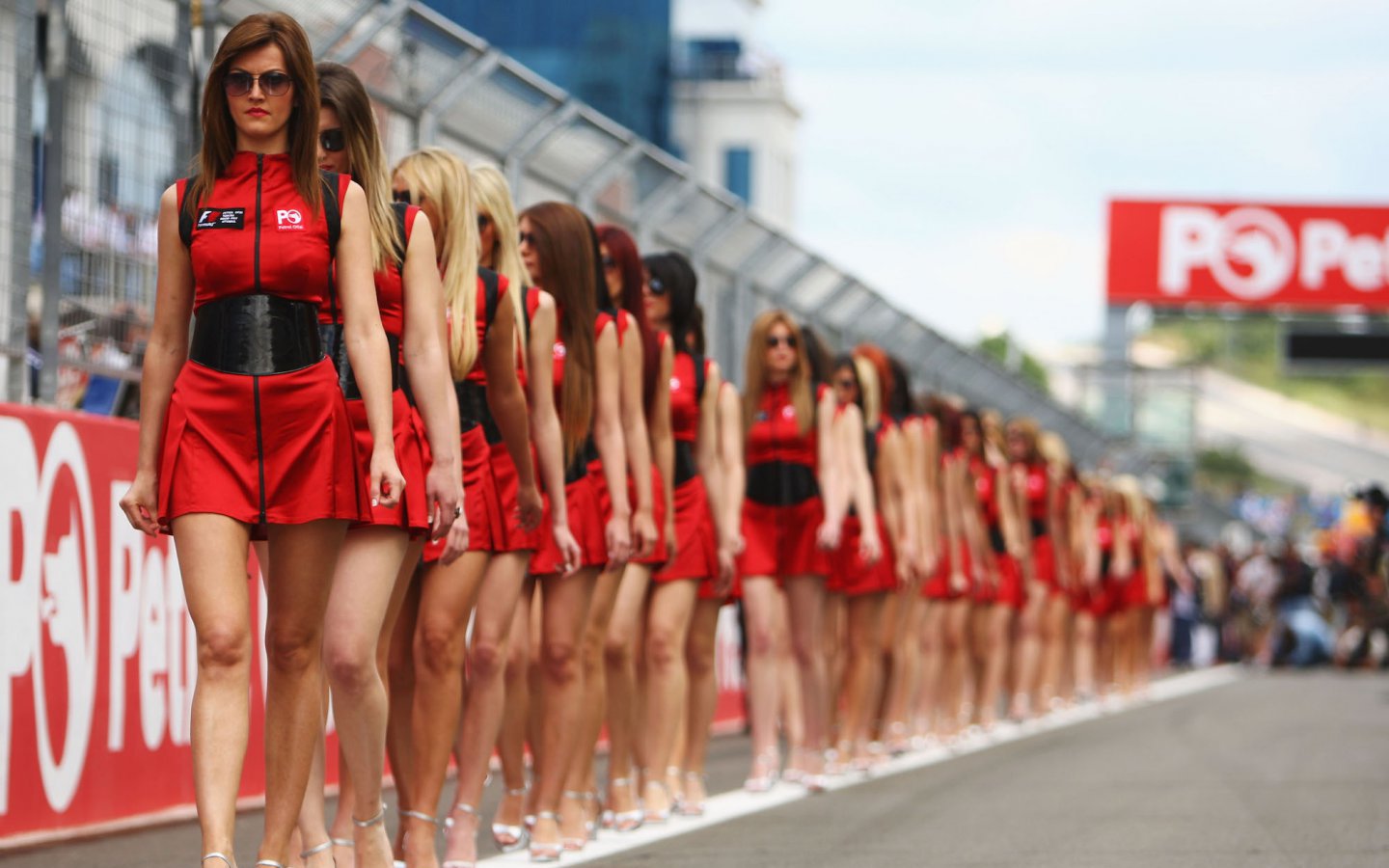 Grid Girls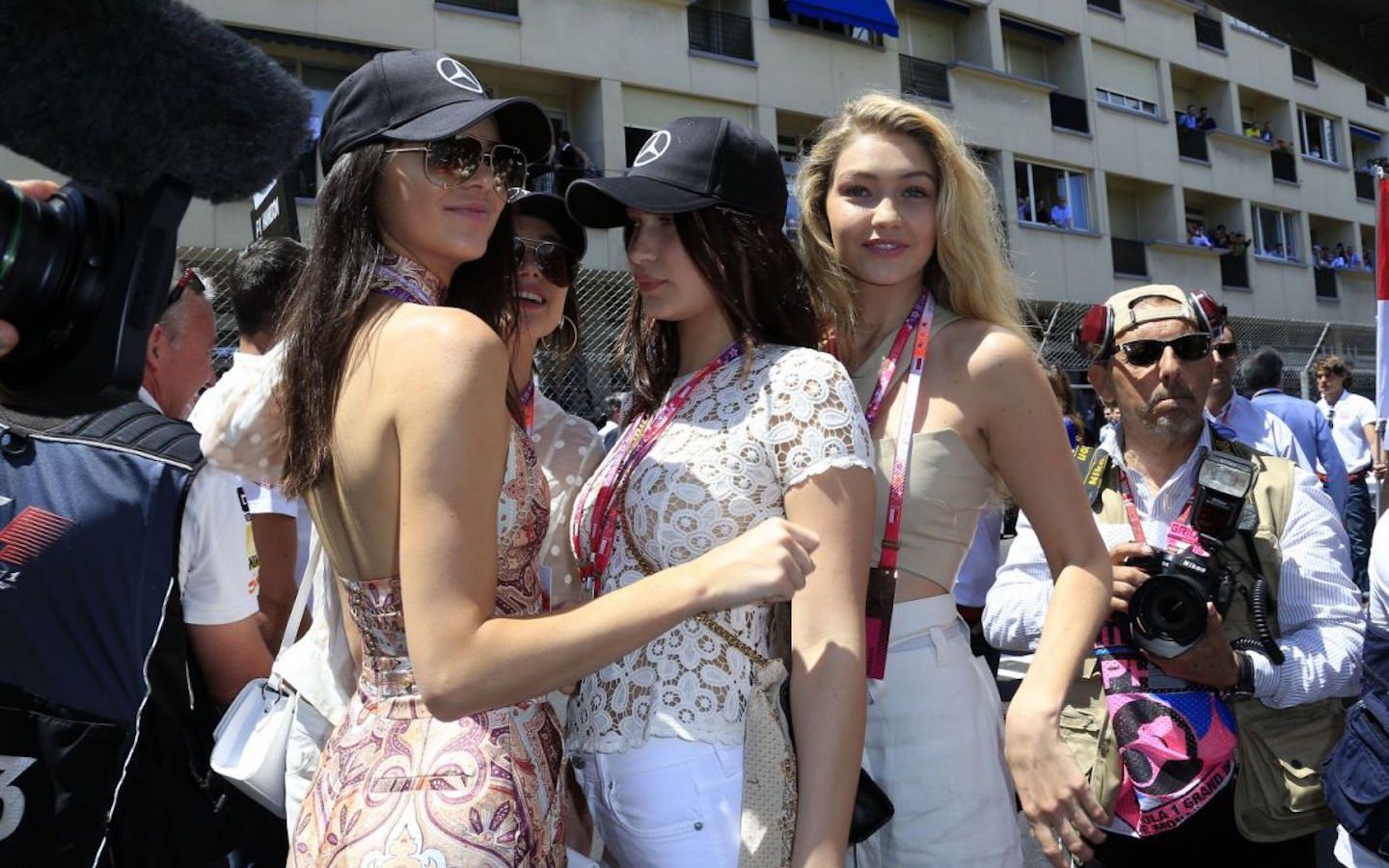 Kendall Jenner and Gigi Hadid in Monte Carlo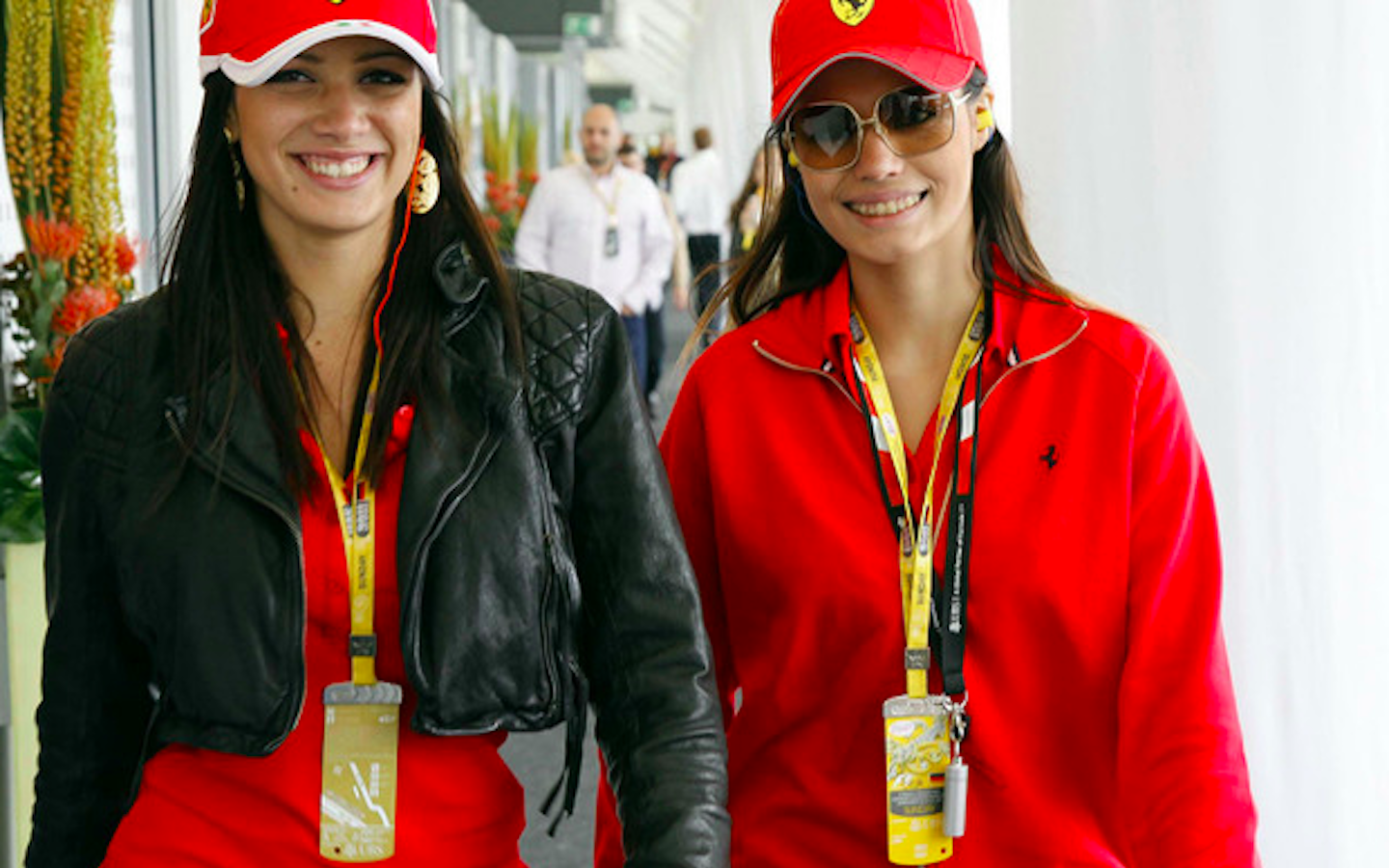 Italian Grand Prix: Belli Ragazzi!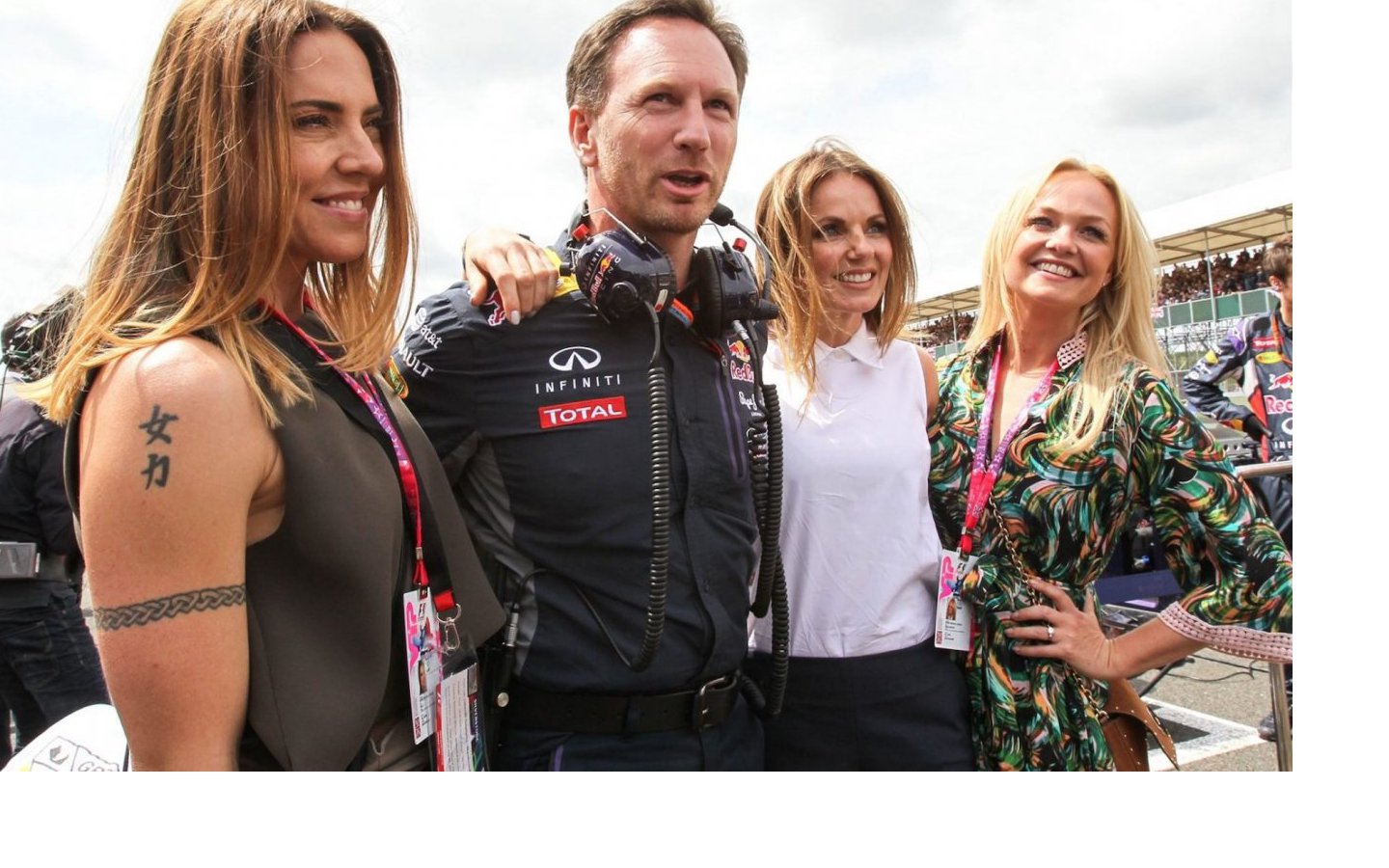 Spice Girls singer Mel C, Christian Horner of Red Bull Racing Team with wife Geri Halliwell and Emma Bunton on the grid at the British Grand Prix in Silverstone, England, July 2015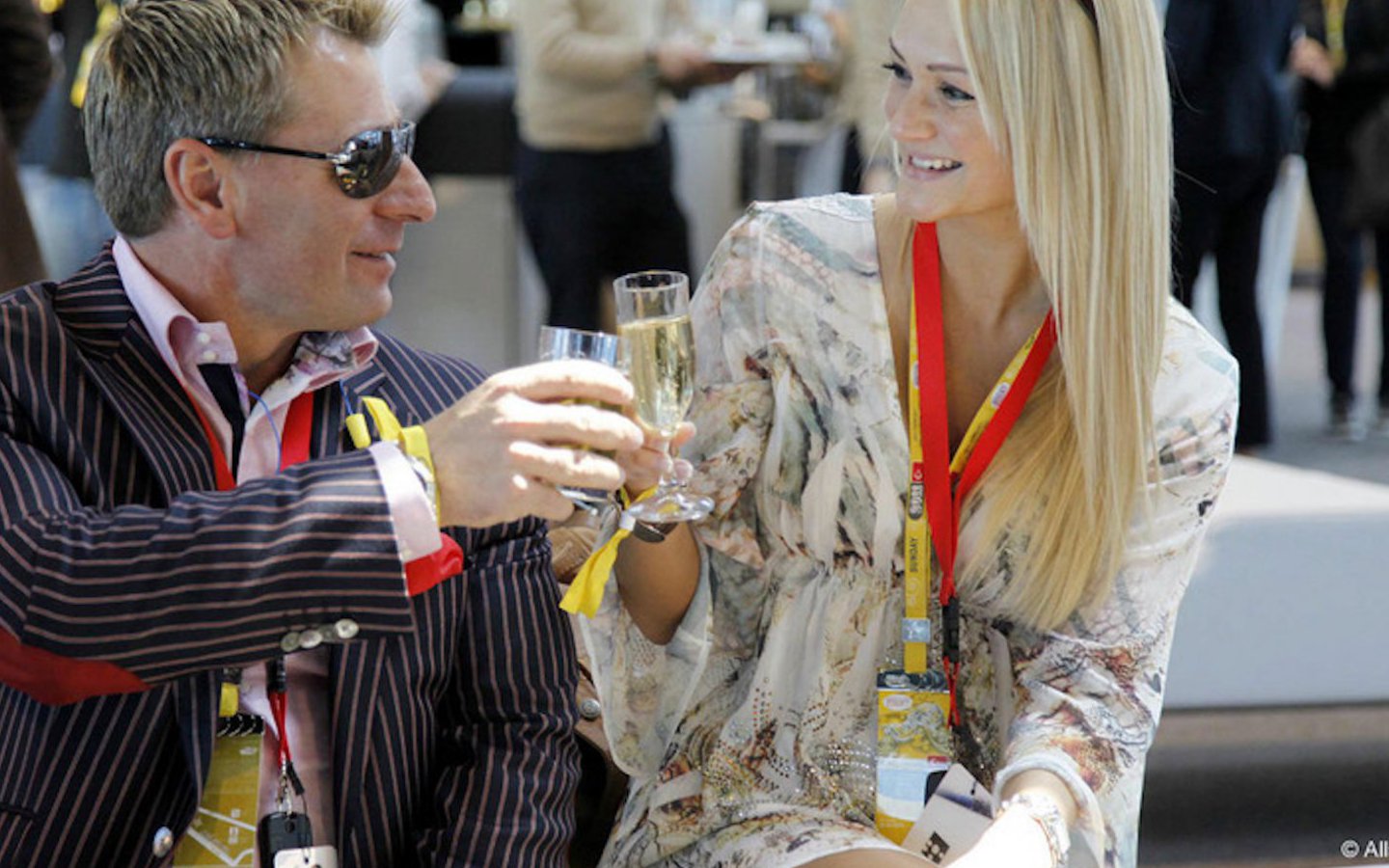 Champagne, of course, at the Monaco Grand Prix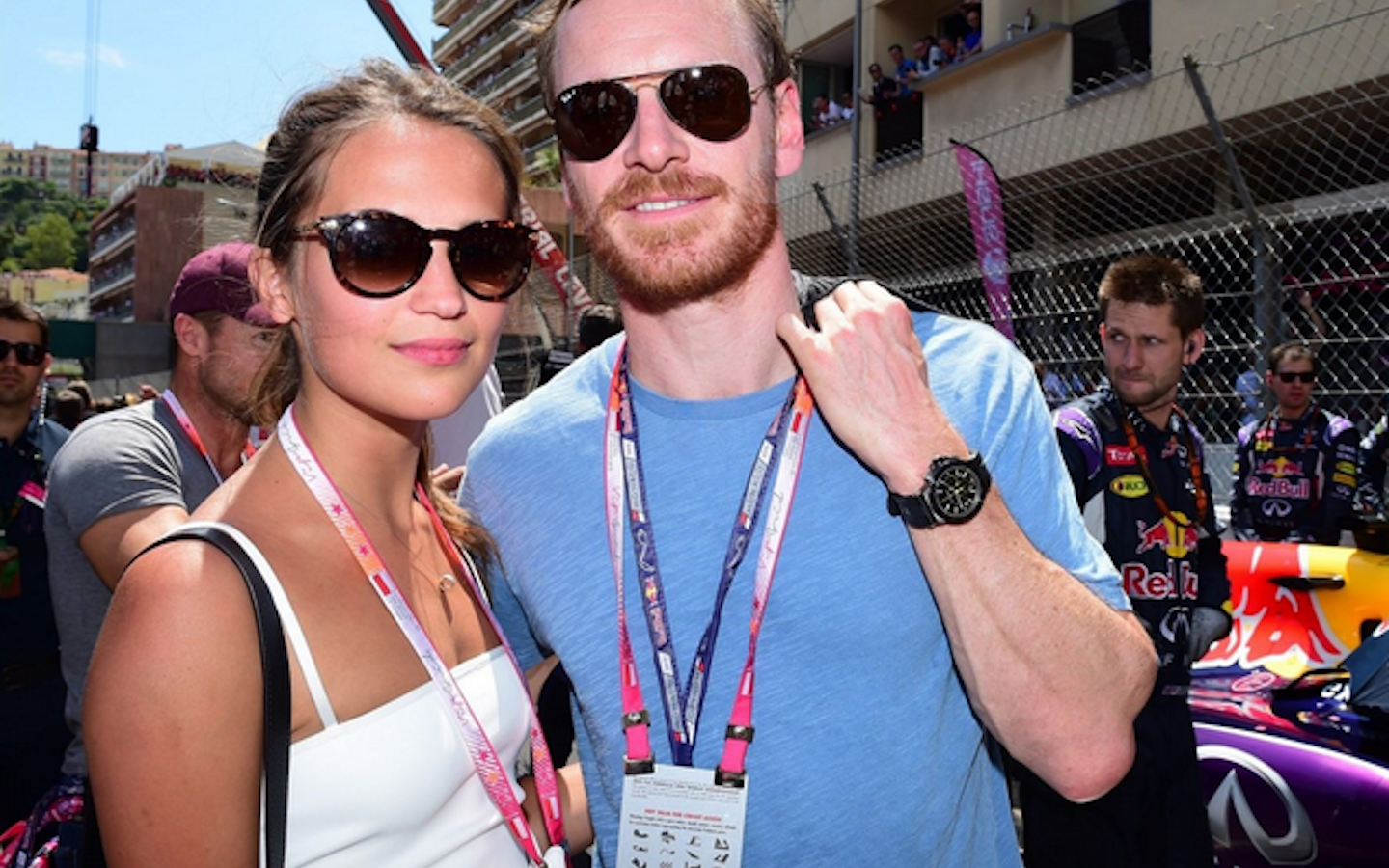 Actor Michael Fassbender with girlfriend/actor Alicia Vikander at the Monaco Grand Prix Race, May 2015.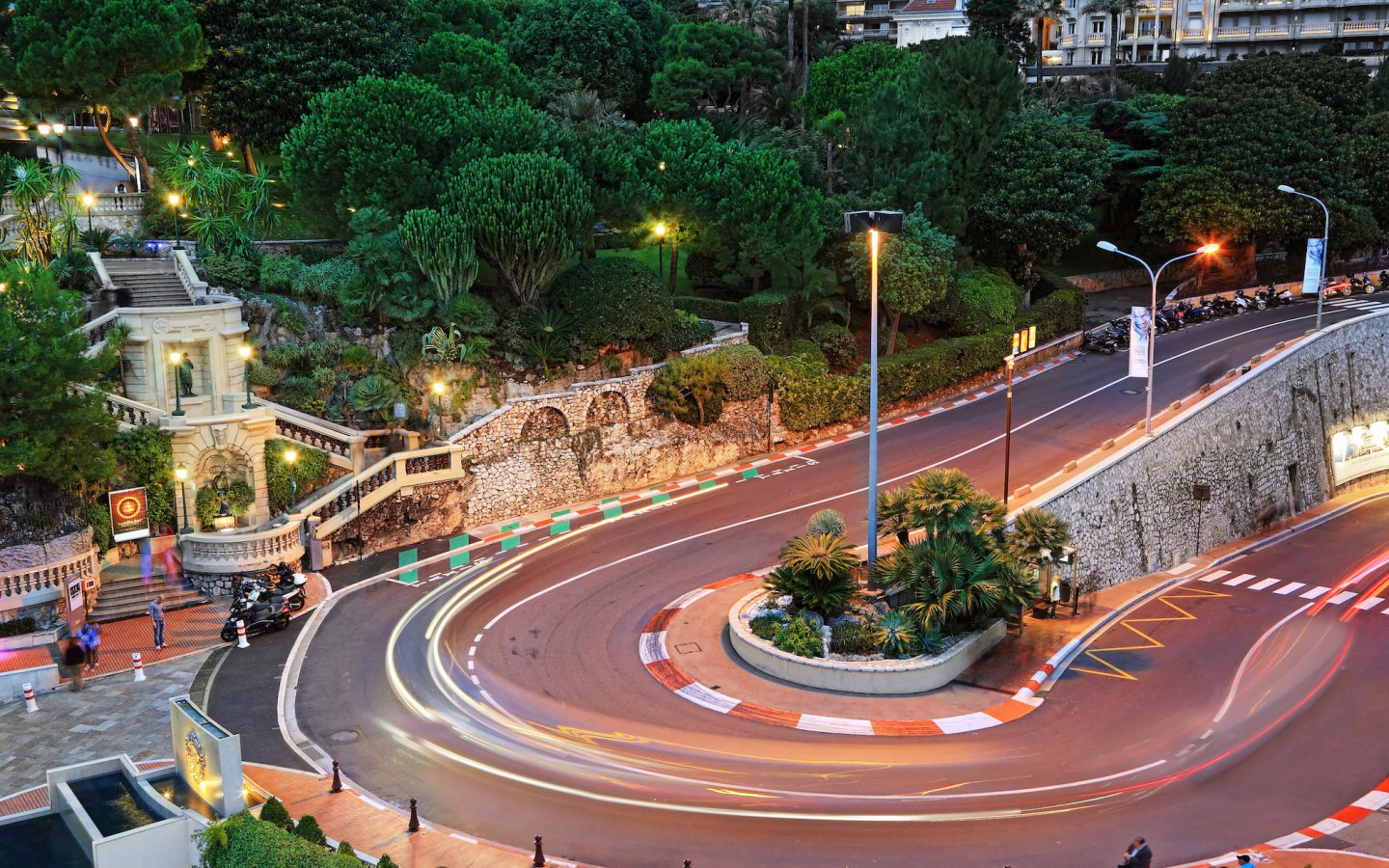 The Grand Hotel hairpin in Monte Carlo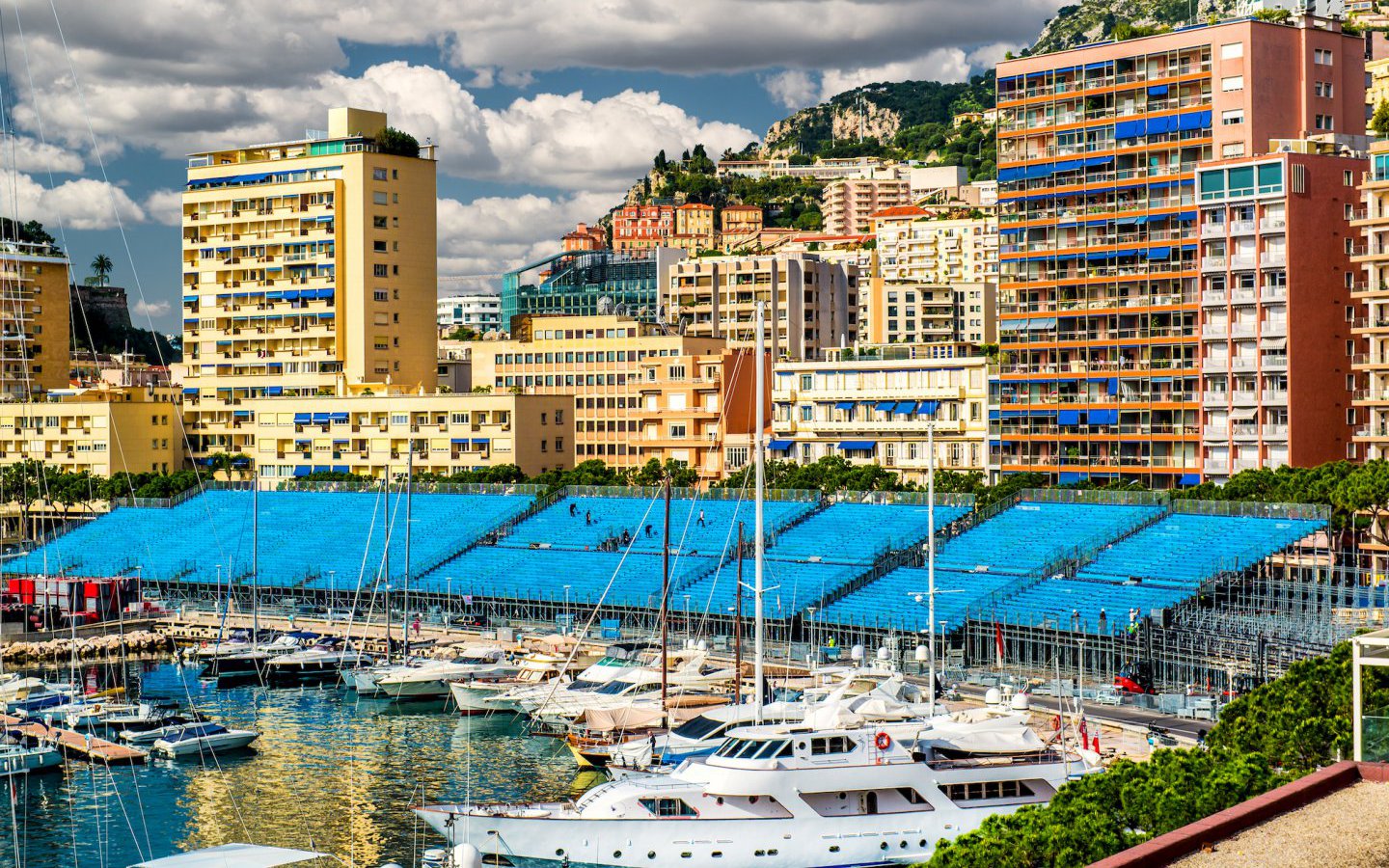 Fab setting for the Formula One Monaco Grand Prix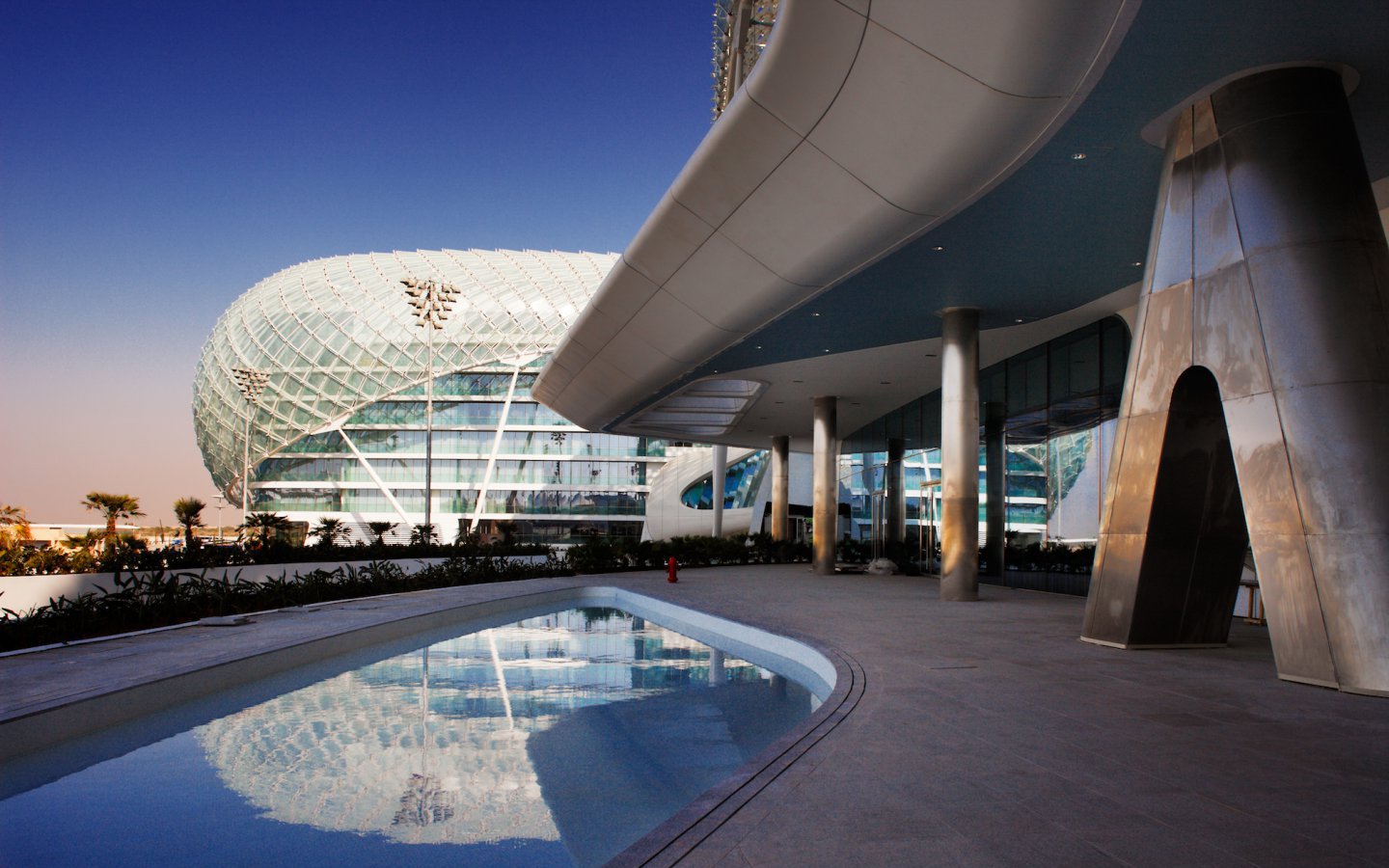 The Yas Hotel in Abu Dhabi was the first new hotel in the world to be built over an F1 race circuit
Admiring spectators, meaning you, enjoy an international jet set scene that takes them from Italy to Abu Dhabi, Monaco to Mexico. Every city offers a different track, setup, festival vibe, people-watching, culture, and local attractions. In Abu Dhabi there are roof top gardens and air conditioned lounges with panoramic views of the race and marina. In 2018, once again, it is Formula One's only twinkly twilight event.
Monaco is the queen bee of settings. The first Grand Prix race ever took place here in 1929. Also, the race here runs through the streets. The locale? Sultry seaside Riviera glamour. Equally historical is Monza in Italy, set in a former royal park and offering a chance to mingle with the passionate Italian Tifosi, or Ferrari disciples.
Would it be sexist to mention that Formula One is also known to attract the beautiful people, from the grid girls to the international crowd including celebrities and socialites? Sophisticated patrons will tell you that people watching can be as good as the race! But hey, it's a party, people check each other out as much as they check out the cars and drivers. There's adrenaline and other brain chemicals flying high. It's a seductive and fast world that is definitely worth exploring, at least once.
For all the details, visit the official Formula One website.