Holi: The Festival of Colors
We frequently travel to India (alas mostly for business), and we've had the tremendous pleasure to experience Holi, the festival of colors. It's an absolutely exceptional experience of a lifetime, and one we highly recommend adding to your bucket list. You just missed this year's edition on March 2, so no better time than now to plan for next year!
Spring is in the air, and spring festivals are pretty abundant around the world. Many are rather wild and colorful. After all, cold, grey and reluctantly lingering winter needs some help making way for brighter, more bountiful days. This is best accomplished, traditionally speaking, via lots of noise, extravagant costumes and utter hedonism. Southern Germans don scary witch masks during Fasching to frighten off the icy hands of Jack Frost. The Chinese pull out all the stops for Chinese New Year with dragon dances and firecrackers to "sound out" the old year.
But Holi tops them all with an explosion of color and while originally associated mostly with Northern India, it is now celebrated the world over from Berlin to NYC. In a nutshell, this ancient Hindu holiday, one of India's oldest, manifests in a kaleidoscope of colors, as people sing and dance in the streets or in front of temples and public buildings and throw buckets of vibrant color at each other the day after the full moon in March or February. Coloring is also done by smearing paste on each other and tossing color-solution-filled water balloons. The color ends up everywhere. Some of the paste (bhang) is edible and mind-altering, made from cannabis. Intoxicating cannabis or herb-based drinks are also consumed in some areas of India.
Cacophony of Color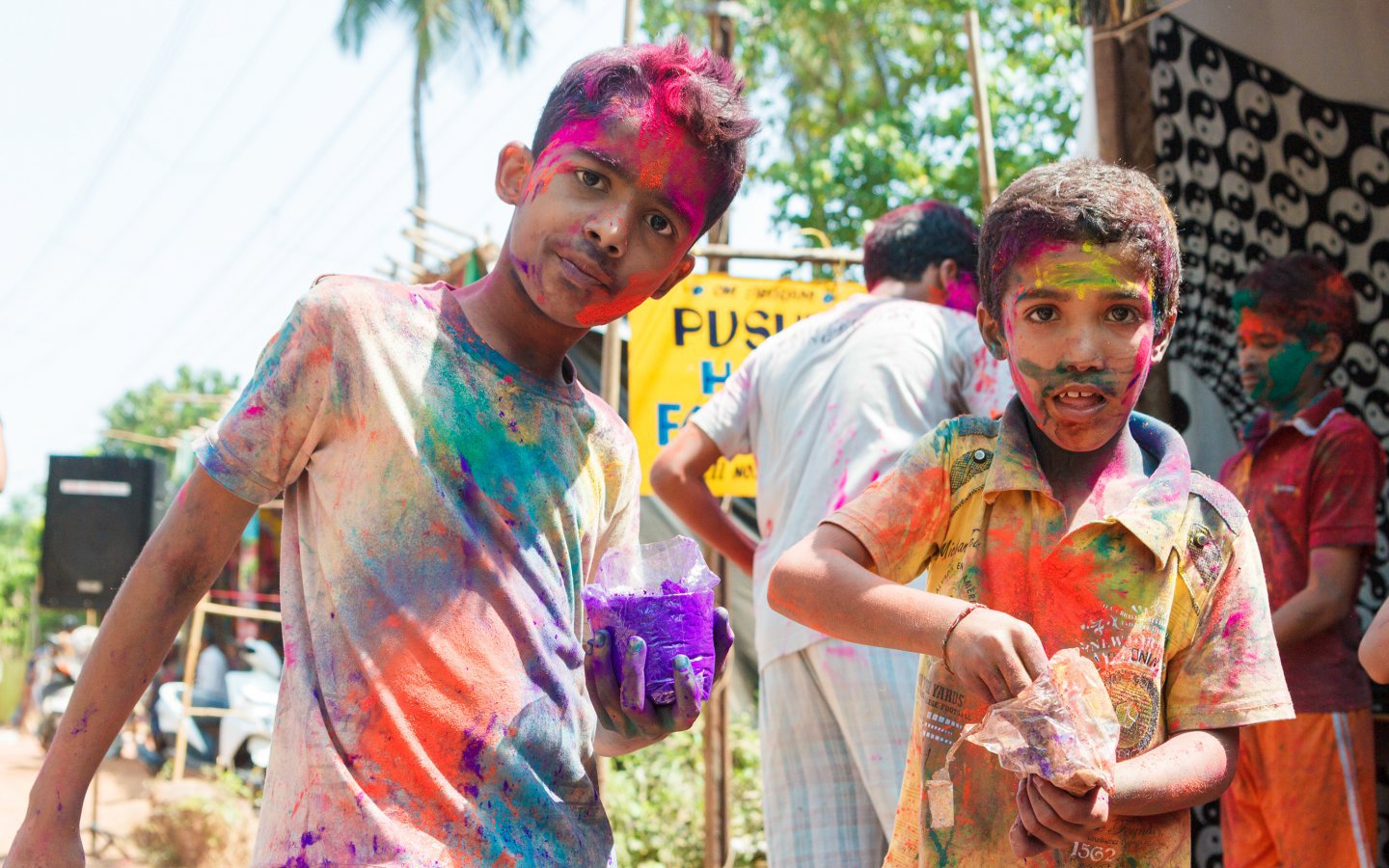 Kids, adults and all castes come together on this one day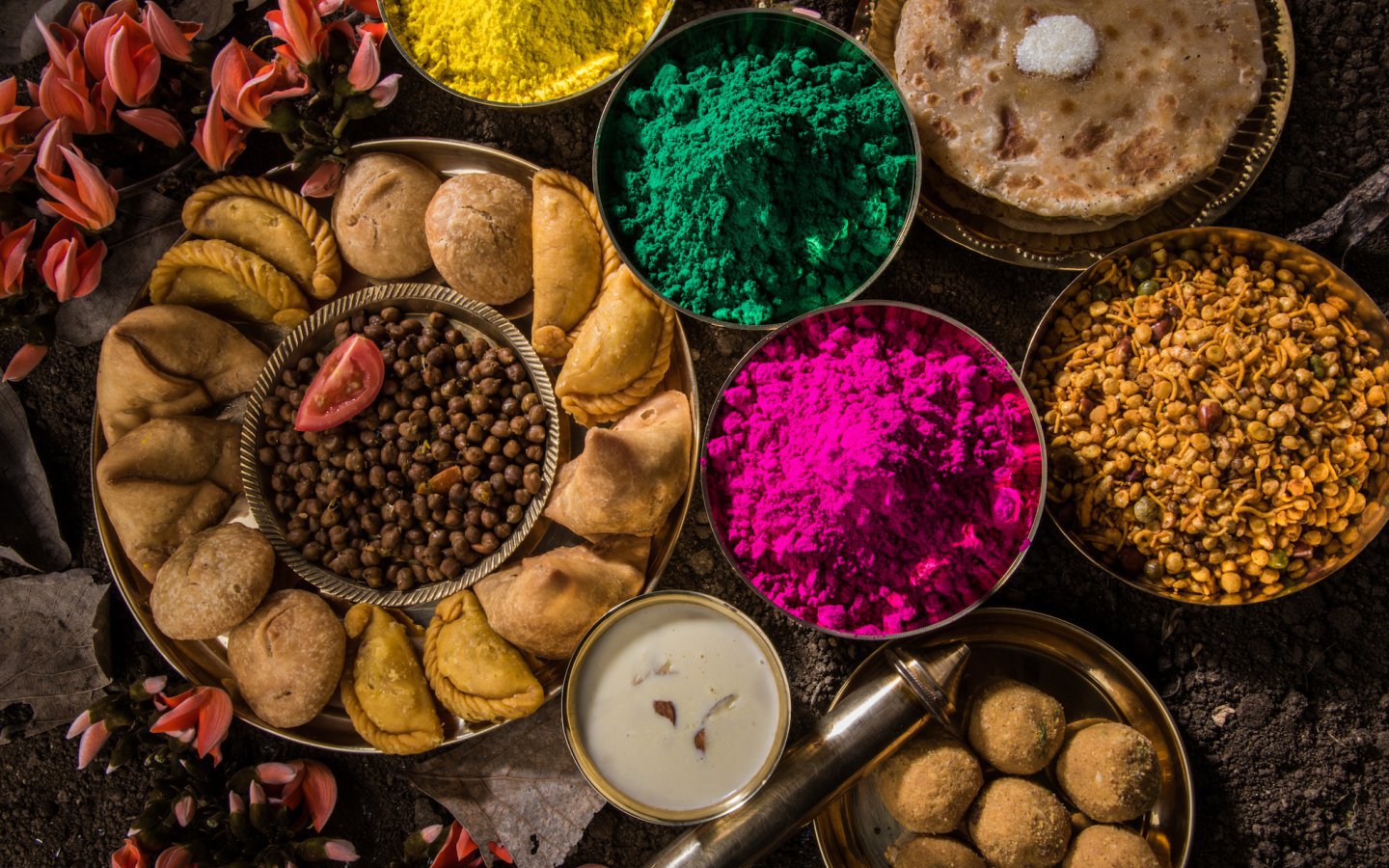 Traditional foods and colors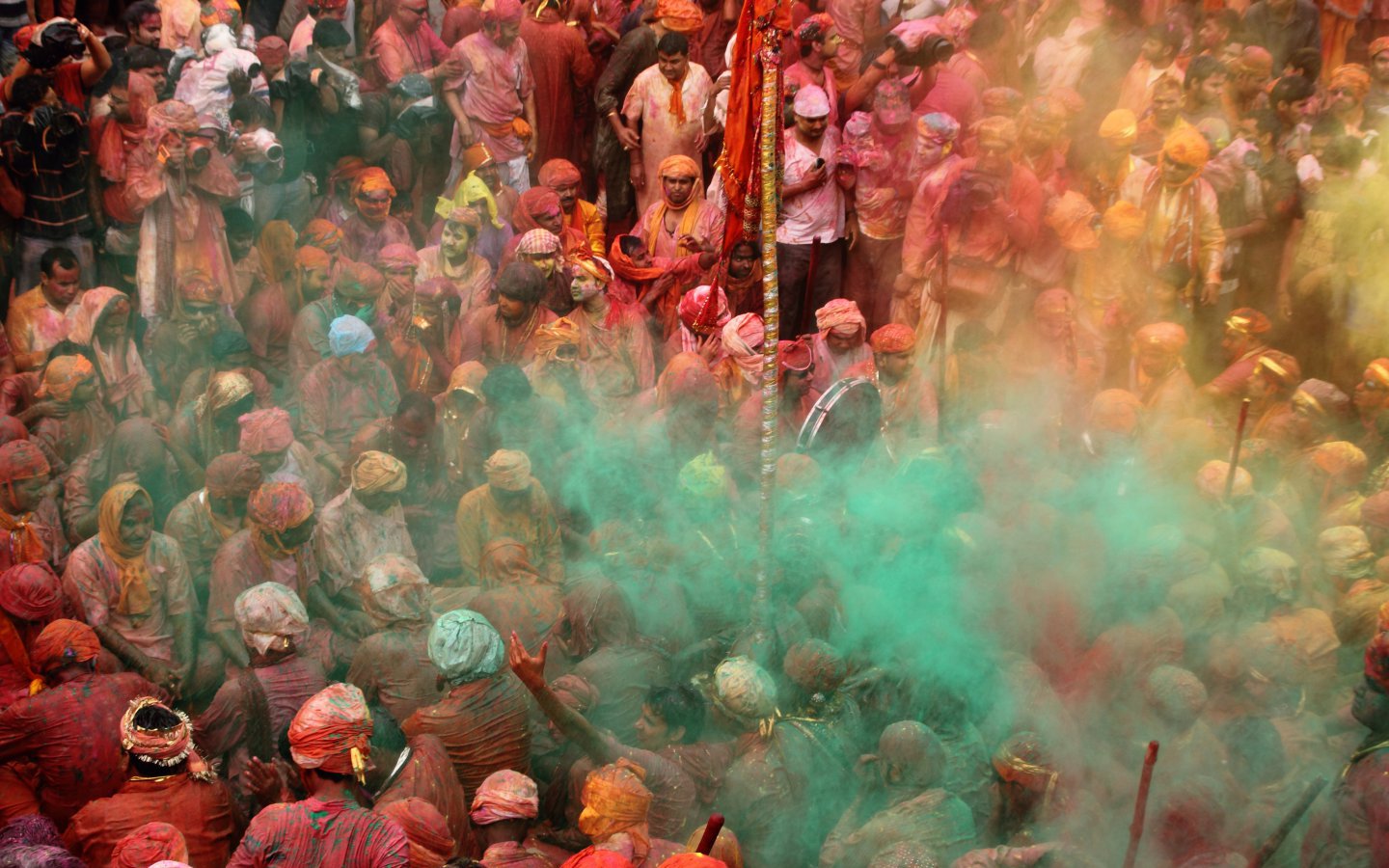 Revelers at a Holi celebration in India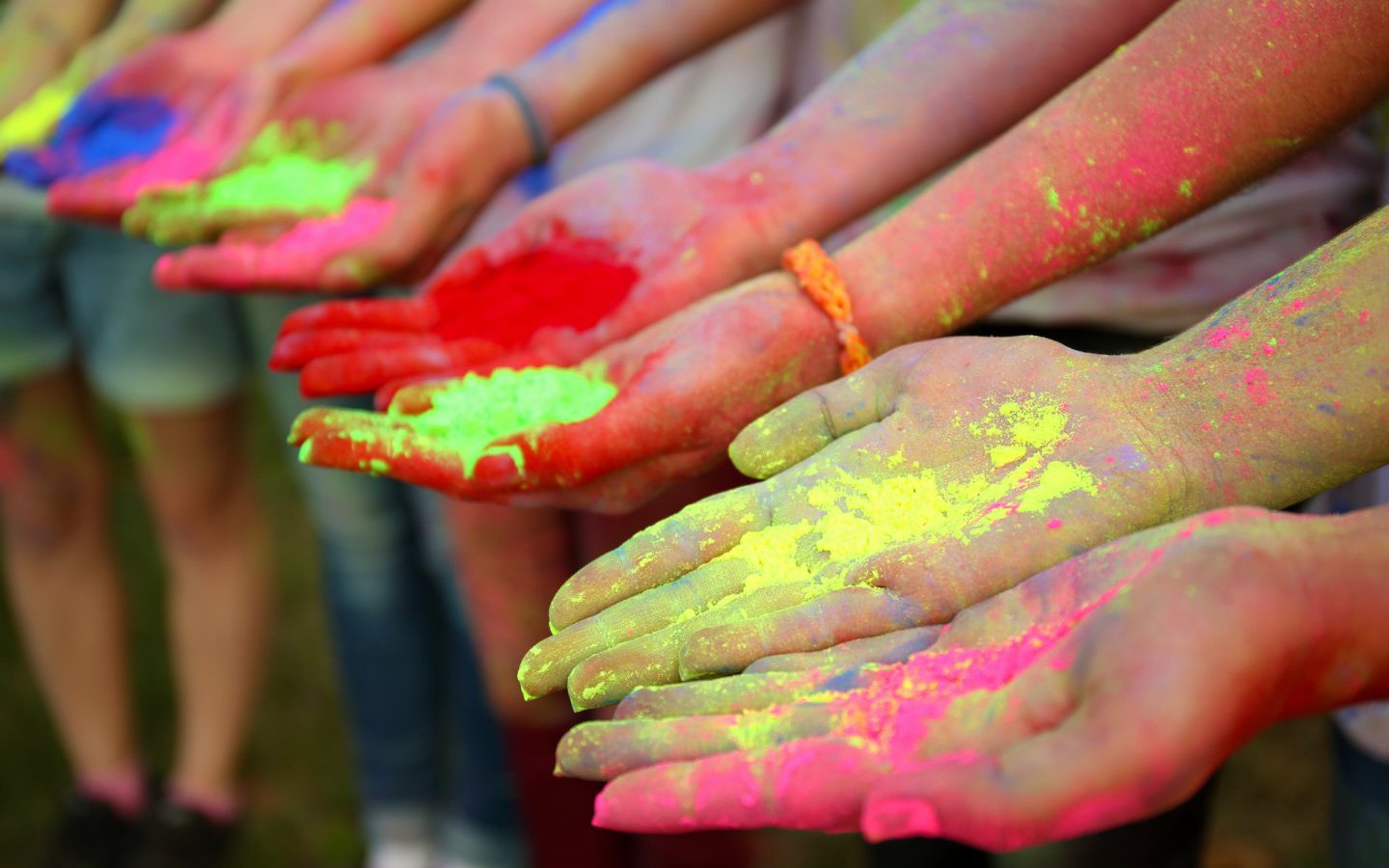 Holi powder, poised for throwing
Holi starts with the Holika bonfire the night before the extravaganza. Holika (whose name inspired Holi) was a she-demon defeated and burned by Vishnu the Preserver. Another theory has it that prince Prahlad was saved by Vishnu, when his father tricked him to his near death. Or it could be that Krishna, the beloved prankster and a reincarnation of Vishnu, simply used to get his divine kicks by drenching the gopis, or village girls, in water and color? Perhaps he was so jealous of lighter skinned Radha that he decided to cover her in pigment? The lore is as colorful as Holi itself, but one thing is sure: It's a celebration of good winning out over evil, light over dark.
It's also most definitely a festival fêting the coming of spring in a flamboyant farewell to winter. And it is considered a commemoration of love, a special day when people are invited to mend broken relationships, let go of grudges against friends and loved ones, and sing and dance in the streets together. Its most beautiful concept is the fact that during Holi everyone unites to "let loose," as they say in India, regardless of caste or gender. Social norms are suspended, including those of one's assigned station in life. People greet those offended by saying "Holi hai!" (It's Holi!) or "Buranamano, Holi hai! (Don't be offended, it's Holi!).
Holi Utah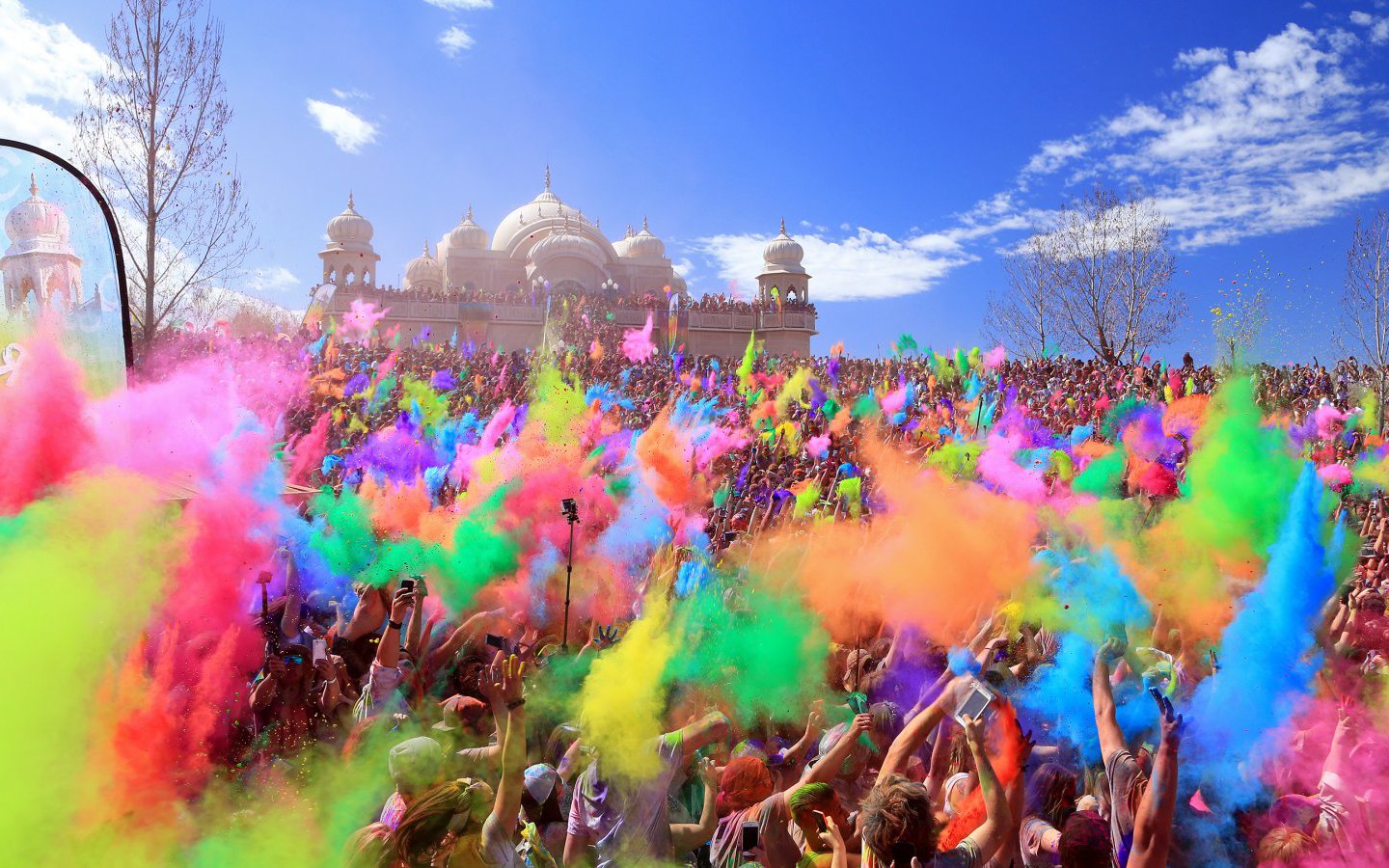 Likely the largest Holi celebration in the US at Sri Sri Radha Krishna Temple in Utah
In India, Holi characteristics vary from region to region. It can last one day or several, include pujas, offerings and religious ceremonies or just general merrymaking. Female travelers are advised to be mindful of intoxicated young men acting inappropriately, often in large groups. So it's best to head out in the early part of the day and never alone. Also, frequently the synthetic colors used in India these days are toxic, made from harmful oxidized metals, acids, glass powder or industrial dyes, possibly resulting a doctor's visit for rashes and eye irritations. Some revelers therefore wear sunglasses and face masks.
In stark contrast, the traditional colors for Holi used to be made from spices, fruits, roots, trees and medicinal herbs considered in Ayurveda (a traditional system of wellness) to have health promoting benefits. Neem, turmeric and beetroot were thought to protect people during the change of the season from winter to spring, a time of proliferating viruses and colds. Mentions of Holi celebrations occur as early as the 4th century.
Hands On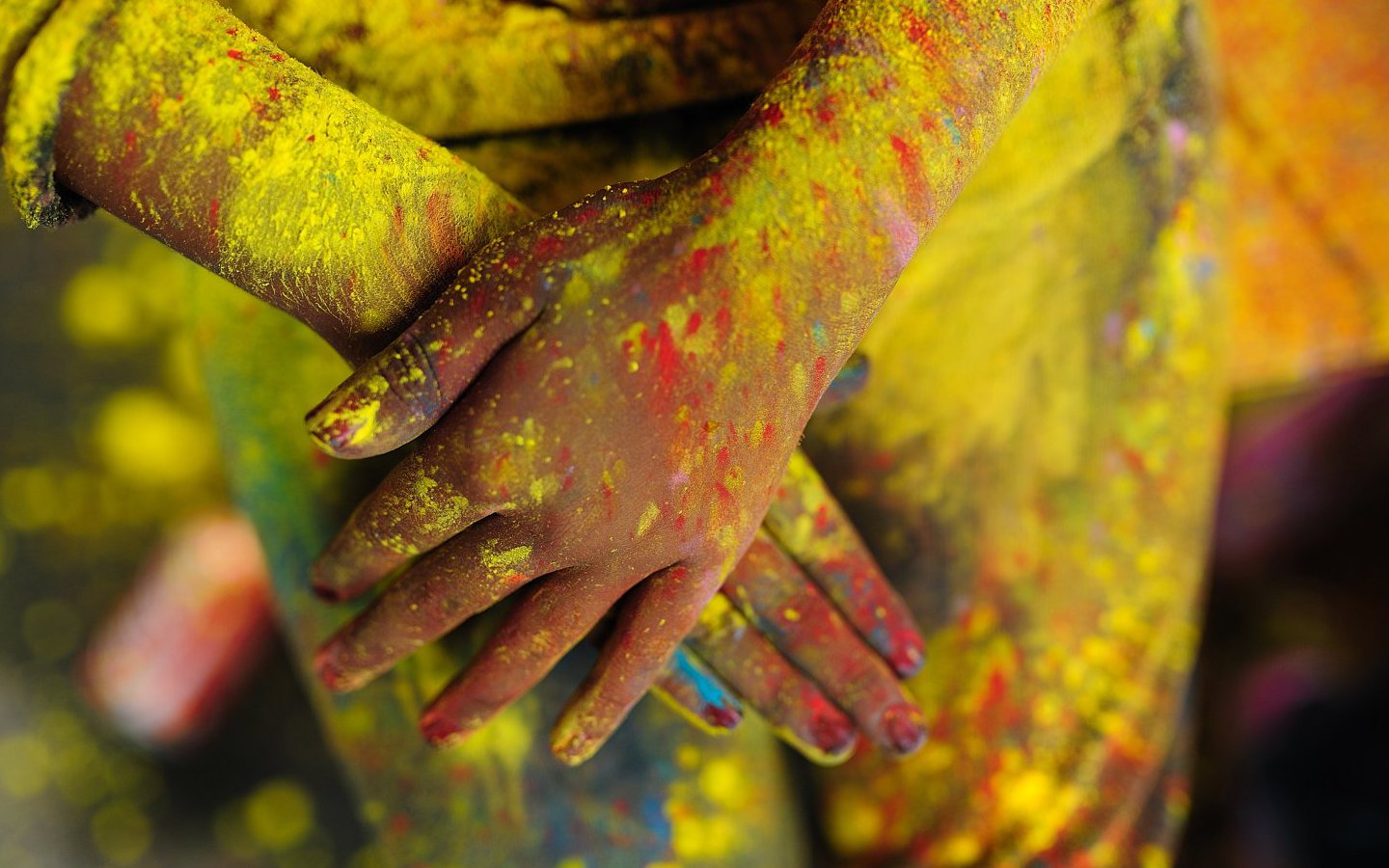 Holi is not a time for quiet contemplation but rowdy reveling.
Many Holi incarnations in the United States and Europe have turned into rave style festival culture with DJs, bands, art installations and performance pieces. But at a time when "cultural appropriation" is a buzzword, we like to respectfully counter that in an ever-globalized world, sharing in other cultures' festivities honors their ways and traditions and brings us all closer together as a world community — especially when it involves something as fundamentally festive and joyful as color.
The next Holi will happen on March 20, 2019.
WHERE TO CELEBRATE:
Holi celebrations worth checking in Northern India range from Rajasthan to Uttar Pradesh. Check out Banke Bihari Temple and villages such as Barsana and Nandgaon. You'll also encounter it in West Bengal, e.g. Kolkata. In the United States, one can search for festivities via Holi Festival of Colors, but consider the biggest iteration at Radha Krishna Temple in Spanish Fork, Utah. Holi is also celebrated in Berlin, Rome, Moscow, Mexico City, Melbourne. For info, visit Festival of Colours.