Luxury Backpacks Are Here to Stay
Someone recently described our Reykjavik Collection backpack as "impressive." We merely replied: "Thank you! Glad you noticed!" No false modesty for us, for the "impressive" was quite intentional. We wanted to create a backpack that's luxurious, functional, elegant, timeless — simply exceptional. Of course, it has equals and competitors; lots of them from a multitude of luxury brands such as The Row, Chloe, Mansur Gavriel… But we wanted it to be an equal among equals! And it is. It belongs in those elevated echelons.
Depending on where and when you grew up, your first bag was likely a backpack for school, probably too big and heavy for your little-child frame. Growing up and out of our infantile ways, becoming a cool kid, meant shedding that backpack for something nonchalant that could be worn on the side, such as a DJ or messenger bag. A backpack was for children. College required a backpack again, as did traveling the world, the proverbial "backpacking through Europe" (or Hawaii or Thailand or Costa Rica) rite of initiation into adulthood. But that version was merely practical: waterproof, lightweight, durable, full of secret compartments to stash practical and impractical things.
Pack Pioneer Greg Lowe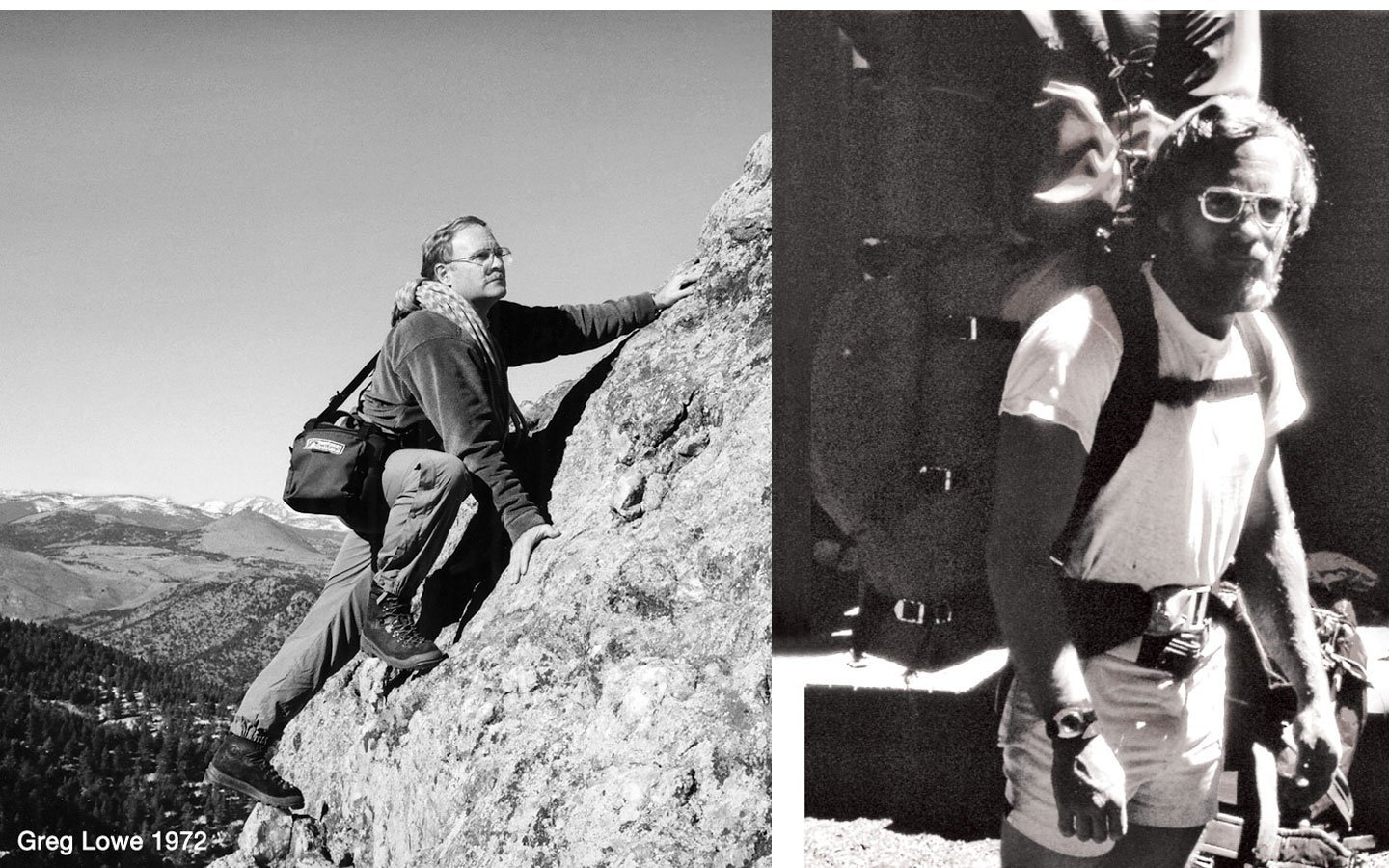 Greg Lowe made the first internal frame backpack in his garage.
If you were around in the 1990s, you'll remember that the backpack had a crucial fashion history moment in the chic set's limelight. Fashionistas (That wasn't what they were called back then. What were they called?) and Rrriot Girls alike went crazy for a little black backpack designed by Prada. It was the ultimate Grunge accessory along with Doc Martins and dark red lipstick. It was rather tiny and made from military-approved nylon. It was so petite that it looked sort of silly (Sorry, Prada. No offense. We were devotees ourselves!).
Then came the 2000s and with them logos like mad, and cattle-like branding on low-cut designer jeans, sunglasses, bags, everything. Worse than the 80s! Truly! Lots of ostentatious bling. Remember Juicy Couture butts? Remember Paris Hilton? Remember the white Takashi Murakami Louis Vuitton purse with its childlike multi-color prints all over? That was the it bag du jour.
Prada Makes It Fashionable
Miuccia Prada built her entire fashion conglomerate on the black nylon backpack
Now we live at a time when all eras, all styles, and all silhouettes seem to coexist at once. The '90s are back but so are the '70s and '80s and '40s, and everyone mixes it up according to their own idiosyncratic taste and style on any given day. So in this anything-goes-in-fashion world, where minimalists happily groove with maximalists, we want to be a calm, classic oasis of quiet luxury and functionality.
Our backpack was meticulously engineered and carefully handcrafted. It is one of a limited edition of 300. It has spent years in development to make it bold yet understated, boasting the finest ingredients (top leather, hardware, zippers, carabiners) and it's utterly functional.
Engineered Luxury
The Virgil James Reykjavik backpack in black: extraordinary quality, function and design
Our Buenos Aires edition in burgundy calfskin
Our Santa Fe Collection backpack
Zipper detail on Santa Fe Collection backpack
Button detail on Santa Fe Collection backpack
The interior is equipped with separate laptop and tablet sleeves and one zippered pocket, and it has water resistant lining. And you don't have to wear it hands-free, like the school kid you once were (although we do prefer that when traveling, and even in the city, where you need one hand for your daily latte and the other for pushing though the hoi polloi). You can wear it casually, off the shoulder, thanks to detachable shoulder straps with custom high-strength aluminum carabiners for ease of removal.
And here's a secret, a paradox of sort. Even though we make understated bags for people with a devil-may-care attitude, we do love compliments. We do like to be noticed — when we are in the mood to be noticed. We love that people respond to the luxurious leather, pause, look and ask who makes it. But we also like that it's not "loud," that it doesn't scream "look at me." Maybe we're weird like that, but somehow this makes perfect sense. It's a backpack for people who want luxury, but on their own terms.