The 7 Most Iconic Modern Lamps
Chances are, if you're an aficionado of interior design, you're living with a couple of modernist icons. This might be an Eames chair, a Noguchi coffee table, or perhaps a bubble lamp. Just like location, location, location is the battle cry in real estate, light is the pièce de résistance in making the mood of your home feel … well, the way you want it to feel! Cozy and comfortable, stark and sleek, or moody and sexy. Lamps, they light the way.
Among current bright ideas, lamps are looking rather organic, like moons, clouds, jellyfish or champagne bubbles. There are chandeliers that project forests or incorporate plants. But really, the bulb is the limit. In lamp design, anything goes. But what makes a lamp iconic? How did some illuminating specimens transcend space, time and tastes and achieve staying power at fashionable homes around the world? Check out these enduring beacons.
PH Artichoke Lamp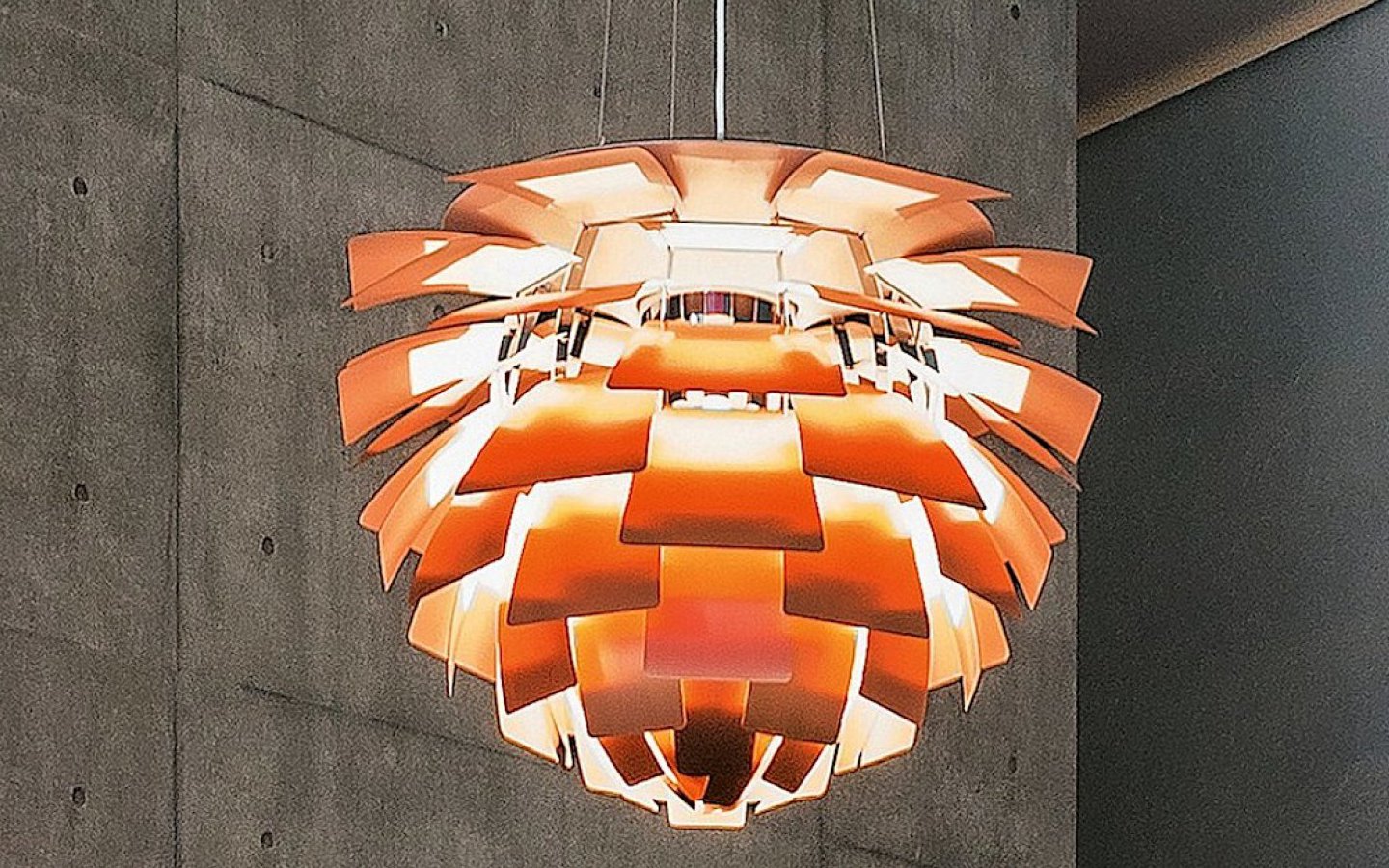 One of the most famous lighting design icons in the world
Like artichokes much? We do. Especially the culty PH Artichoke Lamp, the ultimate modernist chandelier with its famous overlapping leaves, created in 1958 by Danish designer Poul Henningsen (1894-1967). Henningsen's PH lamp is a modernist staple. Originally an architect, PH (as he was known) was fascinated by the light bulb, a novelty in his time, and started playing around with inventing light fixtures. He wanted to recreate the soft glow of the gas lighting from his youth, using scientific principles to distribute light on the shade evenly and reduce glare. The PH was born and is still illuminating living spaces today.
Nelson Bubble Lamps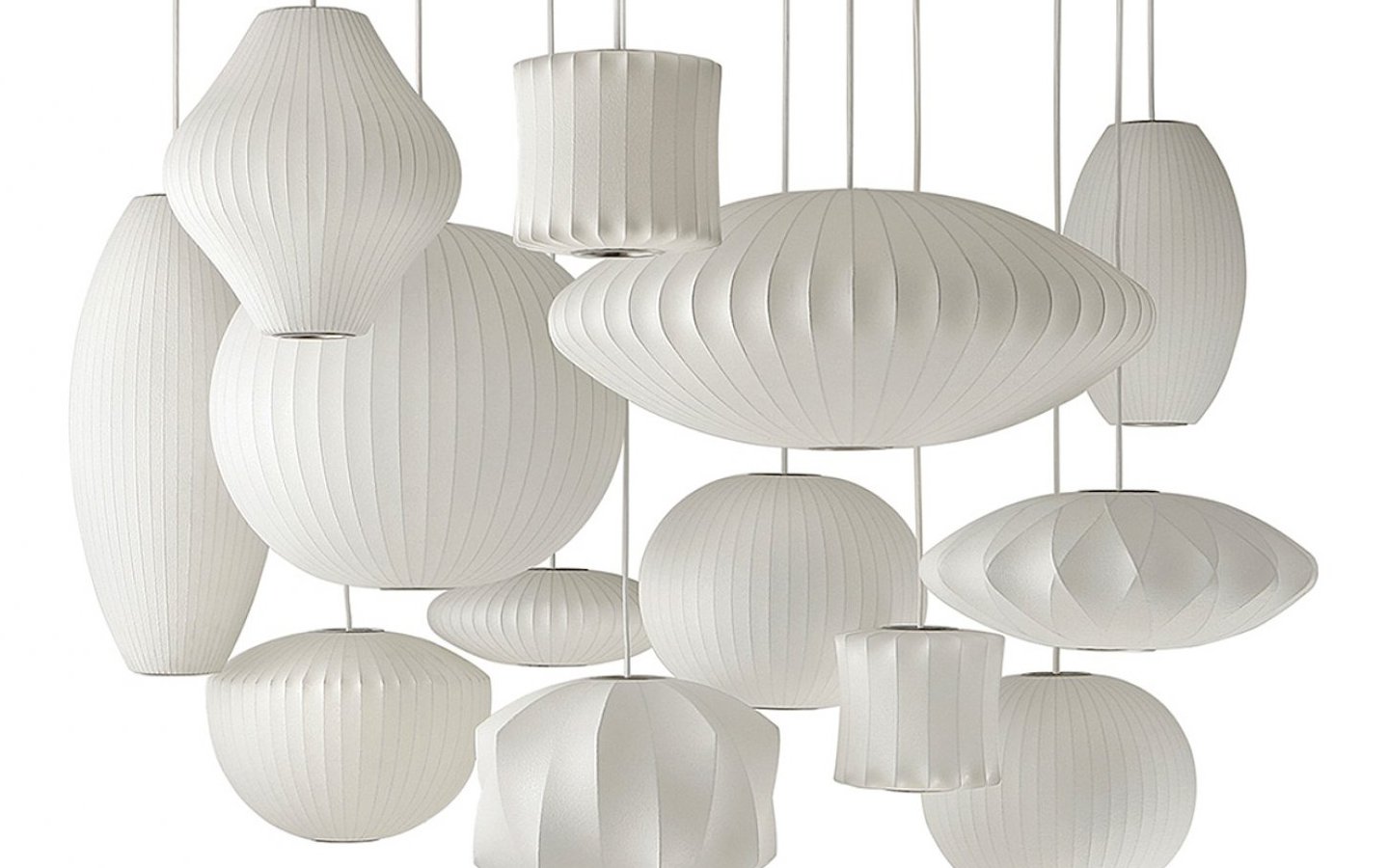 Iconic Bubble Lamp replicas: Designer George Nelson was one of the founders of American Modernism.
Who doesn't like bubbles? No, not Champagne but this iconic mid-century marvel that is part of the permanent collection of the Museum of Modern Art in New York. Yale graduate George Nelson who was born in 1908 in Hartford, Connecticut, is considered a metadesigner and one of the founding fathers of American Modernism, gracing the world with some of the era's most distinguished designs. Behold the Bubble Lamp, which he designed in 1947. Nelson originally studied architecture at Yale but during a fellowship in Italy, he fell in love with what the modernists were up to in Europe. Nelson, who died in New York City in 1986, said he experienced random brain zaps of deep inspiration. He described these like this: "The solitary individual finds he is connected with a reality he never dreamed of." The Bubble Lamp's design couldn't be simpler: a steel wire frame covered in a taut white plastic.
Arco Floor Lamp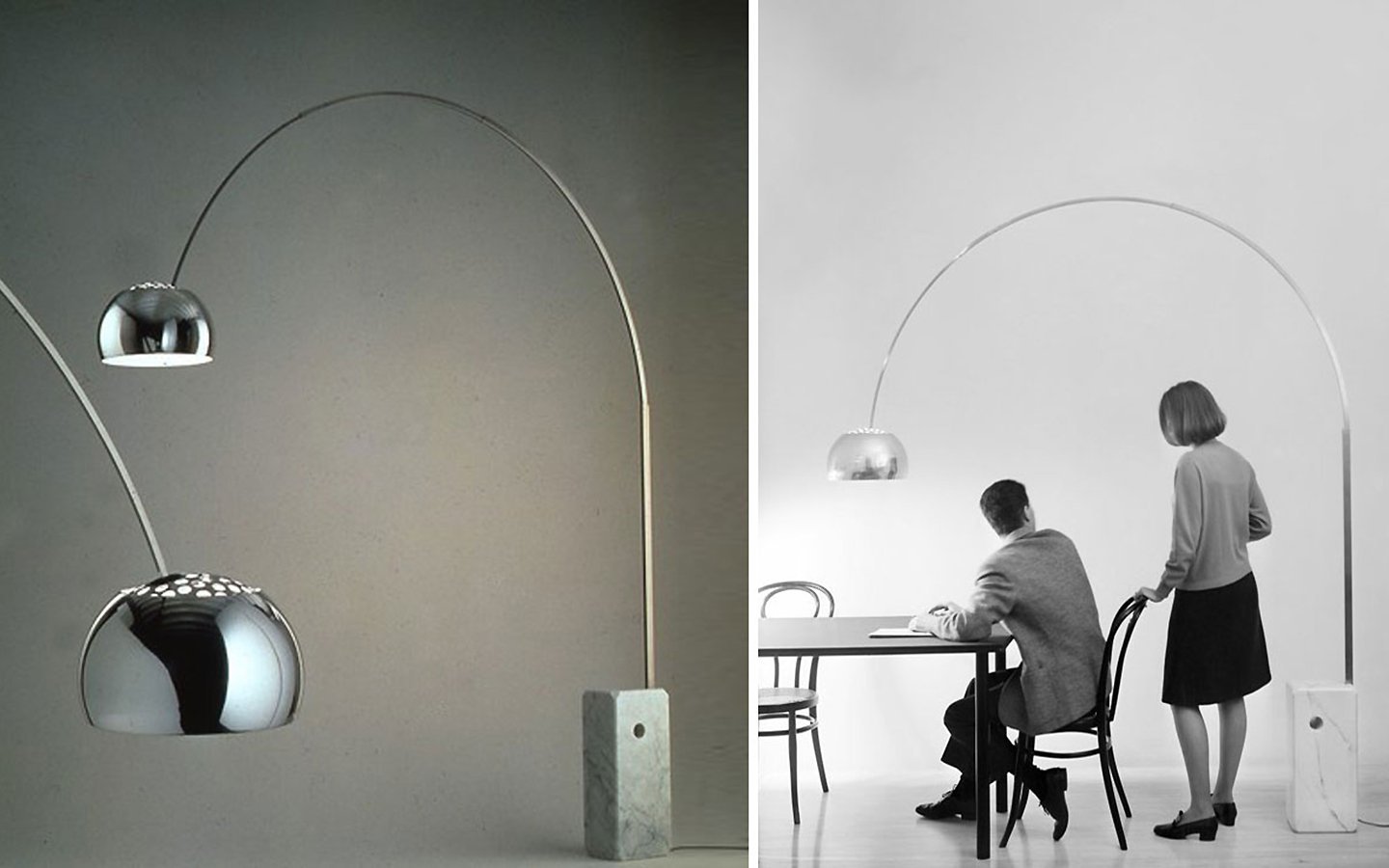 Castiglioni famously and proudly said of this lamp: Nothing in Arco is decorative.
Minimal lamp, maximum effect. The Arco Floor Lamp is one of those designs where the cliché of form and function makes instant sense. No wonder the Arco is also included in the permanent collection at MoMA. Designed by Achille Castiglioni and his brother Pier Giacomo in 1962, it was inspired by streetlights. As with many iconic pieces, the design is deceptively simple: just a marble base (albeit a heavy one, weighing over 100 pounds!), that famous stainless steel arc, and a simple shade. Considered one of the most important Italian designers of the 20th century, Castiglioni was all about common sense plus execution with utmost artisanship and craftsmanship.
Le Klint
Le Klint 172C, designed by Poul Christiansen in 1971.
Here's the other Poul, also from Denmark, of course: Poul Christiansen, not to be confused with Poul Henningsen. Le Klint lamps are easily recognizable due to their iconic sculptural look with hand-folded, multiple layers that were based on mathematical curves. The family business, which started in the early 20th century, works with "pleating ladies," who to this day "preserve the craft of pleating and folding [their] lampshades in Odense, Denmark." Among the many designers who worked for the family business over the years, it was Poul Christiansen who came up with the concept of folding the pleats so precisely to achieve that famous sculptural look. Le Klint is a "Purveyor to the Royal Danish Court."
Anglepoise Desk Lamp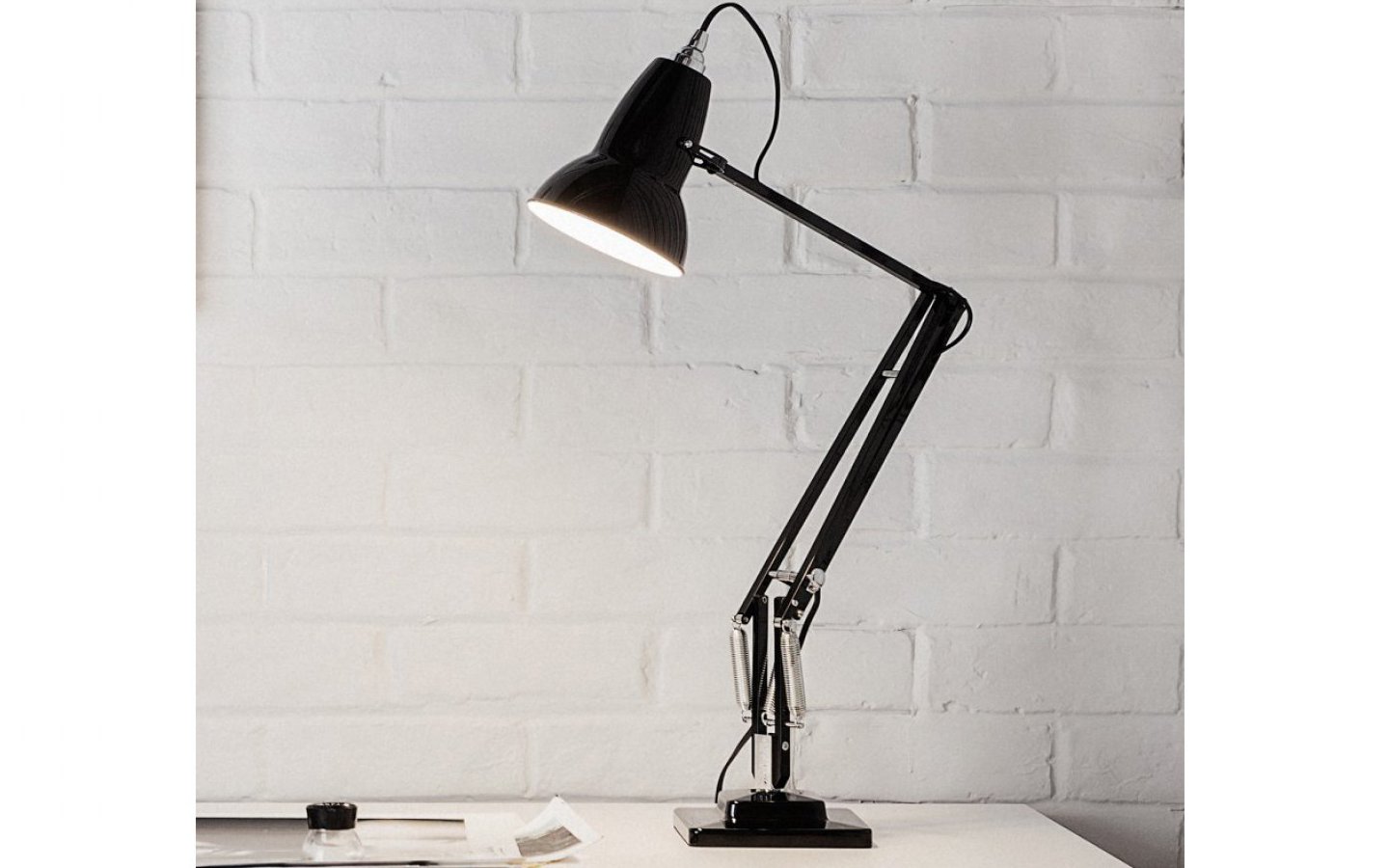 The iconic and archetypal Original 1227 Desk Lamp
Looks like any old desk lamp, you might think. But picture it in 1934, when it first reared its industrial looking head — and body. The British company Anglepoise came up with this super flexible, so-called "balanced arm lamp" design thanks to the arrival of constant spring technology. Designer George Carwardine wanted to make the ultimate work or task lamp and was inspired by the movement of the human arm. The light's joints and spring tension, and positioning of all springs near the base, allow for multiple positions and configurations — super practical and copied the world over. Here's an interesting morsel: In 1948/1949, the BBC made an effort to free TV and radio programming of "smut" and "innuendo." BBC employees were thus not allowed to work solely by Anglepoise Desk Lamp light, since its sultry glow would "nurture furtive ideas and produce degenerate programme material." Wow.
Sputnik Chandelier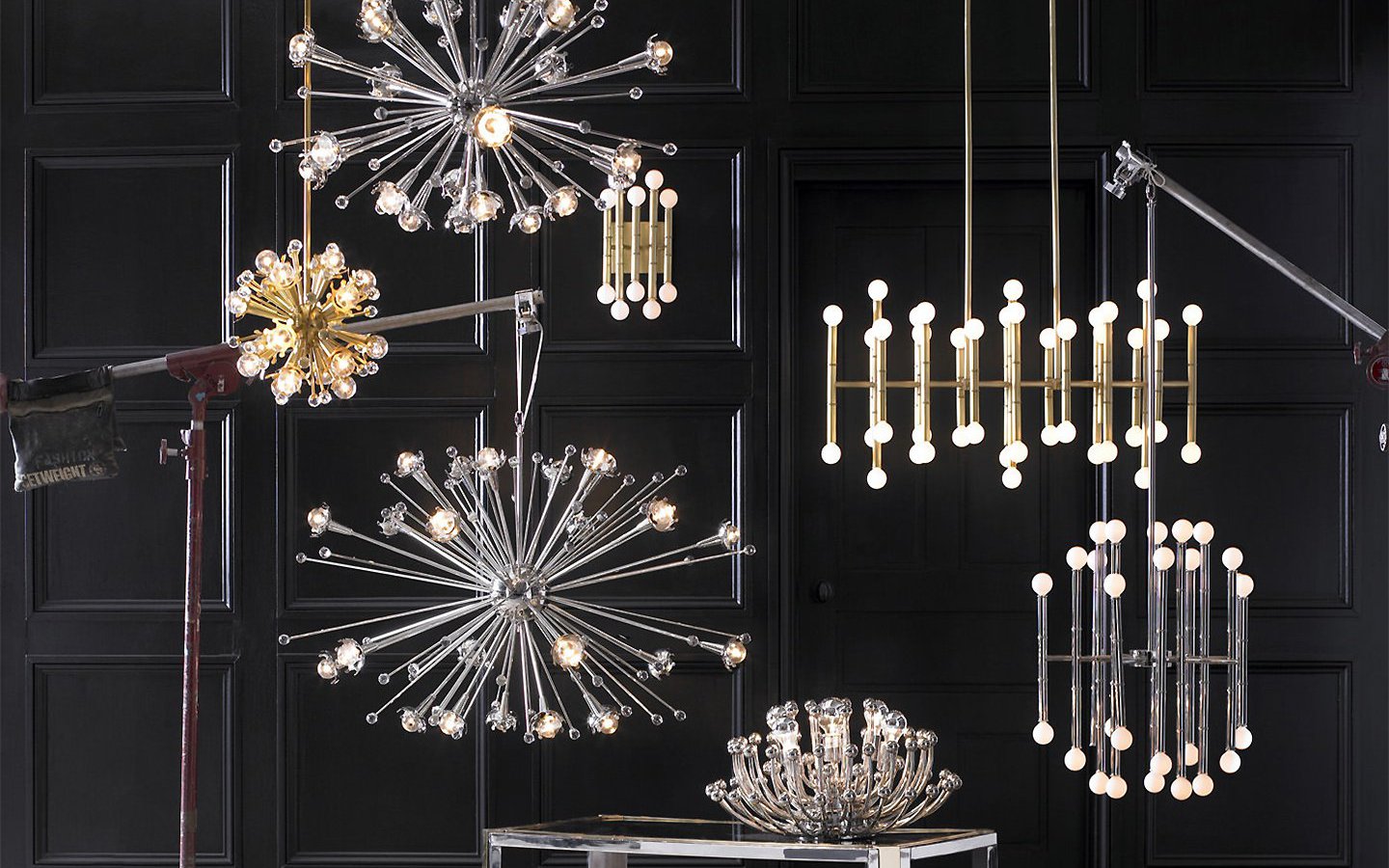 Jonathan Adler's take on the Sputnik Chandelier
One of the world's most famous light artists, Gino Sarfatti invented this galactic classic in 1954. It's associated with the Atomic Age of Design and is its most recognizable representative. The iconic look featuring multiple stems holding a single lightbulb each has inspired endless homages, such as one from designer and advocate of "Modern American Glamour" Jonathan Adler, who says it will make your space feel like a Parisian parlour.
Cobra Lamp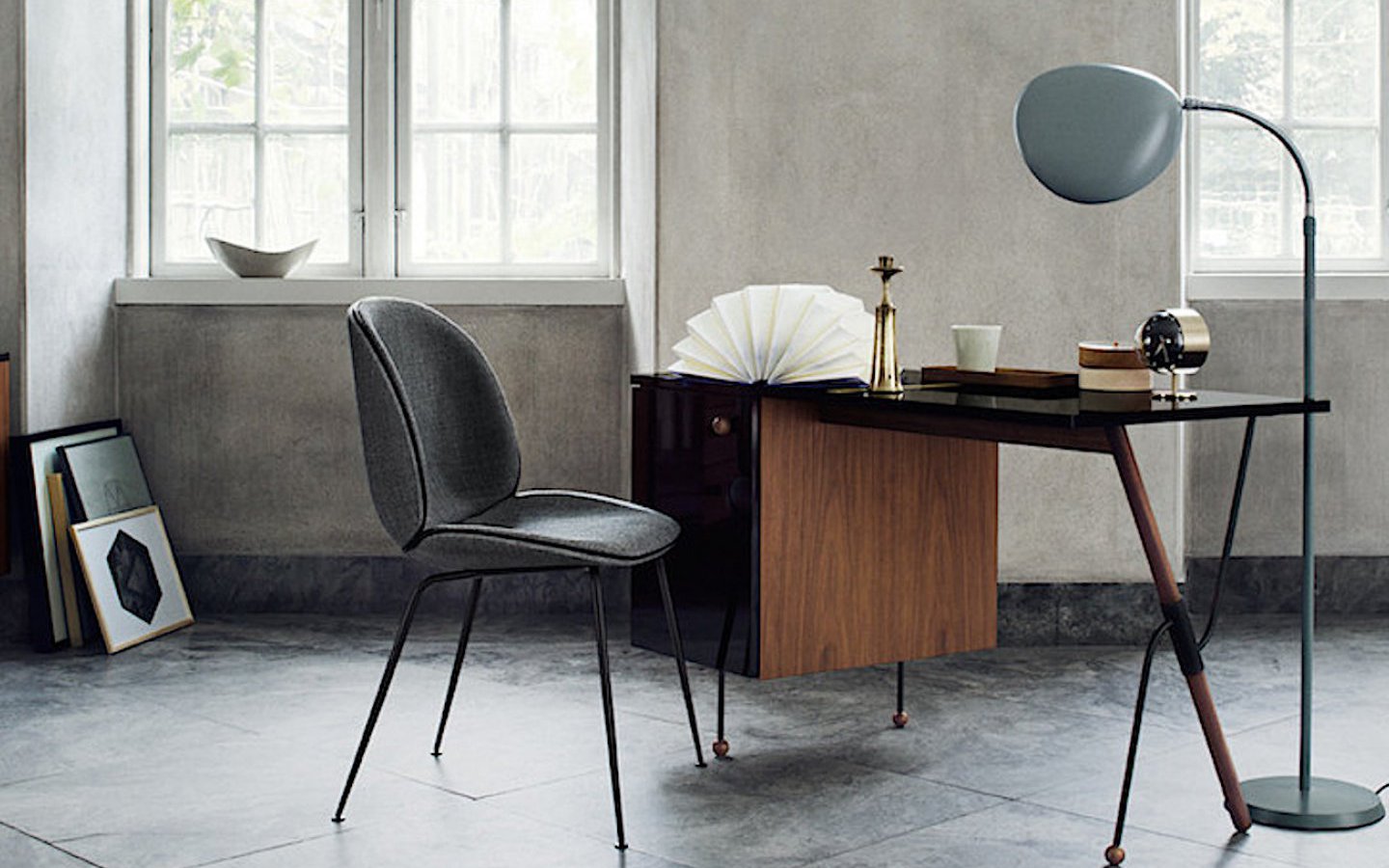 A prime example representing Mid-Century Californian Modernism
We're happy to include an iconic example from a game-changing Swedish female designer, Greta Magnusson Grossman, in a field that to this day is dominated by men. Just imagine the 1940s when she famously opened her store on Rodeo Drive, attracting customers like Greta Garbo! Her coveted and award-winning Cobra Lamp has that unmistakable look with its oval snake head shade and 360 degree rotating, tubular arm. Grossman was very influenced by Bauhaus founder Walter Gropius and modern architecture pioneer Mies Van der Rohe, but her style is all Mid-Century Californian Modernism.
SHOP FOR ICONIC LIGHTING

Louis Poulsen (Fort Lauderdale, Florida)
International supplier of architectural lighting dedicated to "function," "comfort," and "ambience," devised with Poul Henningsen of Artichoke Lamp fame. They adhere to a "very strict and uncompromising product philosophy grounded in simplicity." Their factory is in Denmark.
Hive (Portland, Oregon)
Web stop for devotees of time-tested modern design, from Knoll to Herman Miller to George Nelson. They offer one-on-one consultations.
Le Klint (Denmark)
LE KLINT lamps are crafted in cooperation with designers and architects devoted to careful craftsmanship, tradition and the creation of a mindboggling lighting universe of stark and functional beauty.
Jonathan Adler (Los Angeles, United States)
Find luxe replicas of Mid-Century lamp icons from the LA maestro of all things timelessly chic.
Anglepoise (United Kingdom)
Whether for private or commercial spaces, this iconic British brand is all about practical, kintetic form and function. Their Anglepoise Original 1227 is the archetypal must-have.
(Credit: thumbnail and hero image via louispoulsen.com)