Trek to the Roof of Africa
Could a luxury bag be used to summit the tallest peak in Africa? We see no reason why not! It's all about combining the ultimate in utility and luxury - something the Virgil James Backpacks do with exceptional style. Not to get too carried away, but these bags even use a custom designed, high-strength aluminum carabiner that has a strong climbing heritage. So, it is possible - luxury fashion with performance-tested DNA, for a bucket-list adventure.
Our fascination with the "roof of Africa" began with Hemingway's famous short story, The Snows of Kilimanjaro, first published in Esquire in 1936. It's a classic story - one that marries extraordinary writing with a life-affirming trip. And best of all, in keeping with our celebration of exceptional experiences and things, this is a Seven-Summits' mountain that most of us can conquer!
Unlike many of its fellow giants, the highest mountain in Africa and tallest freestanding mountain in the world is also the world's most walkable mountain. It can be summited without climbing expertise; slow and steady trekking is the way to go — pole, pole, as the porters will remind you in Swahili.
Climbing the Roof of Africa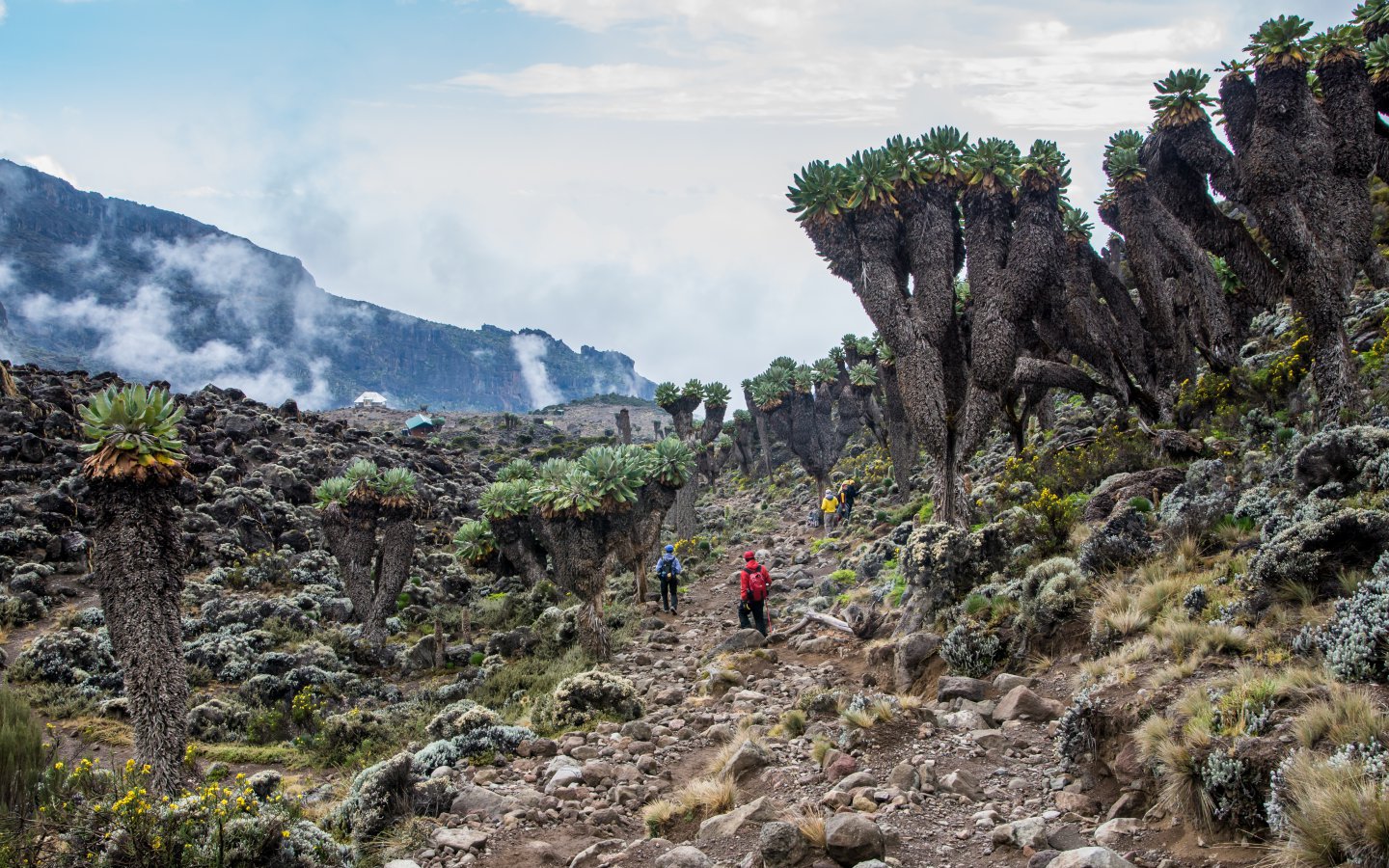 Exotic flora against stark rock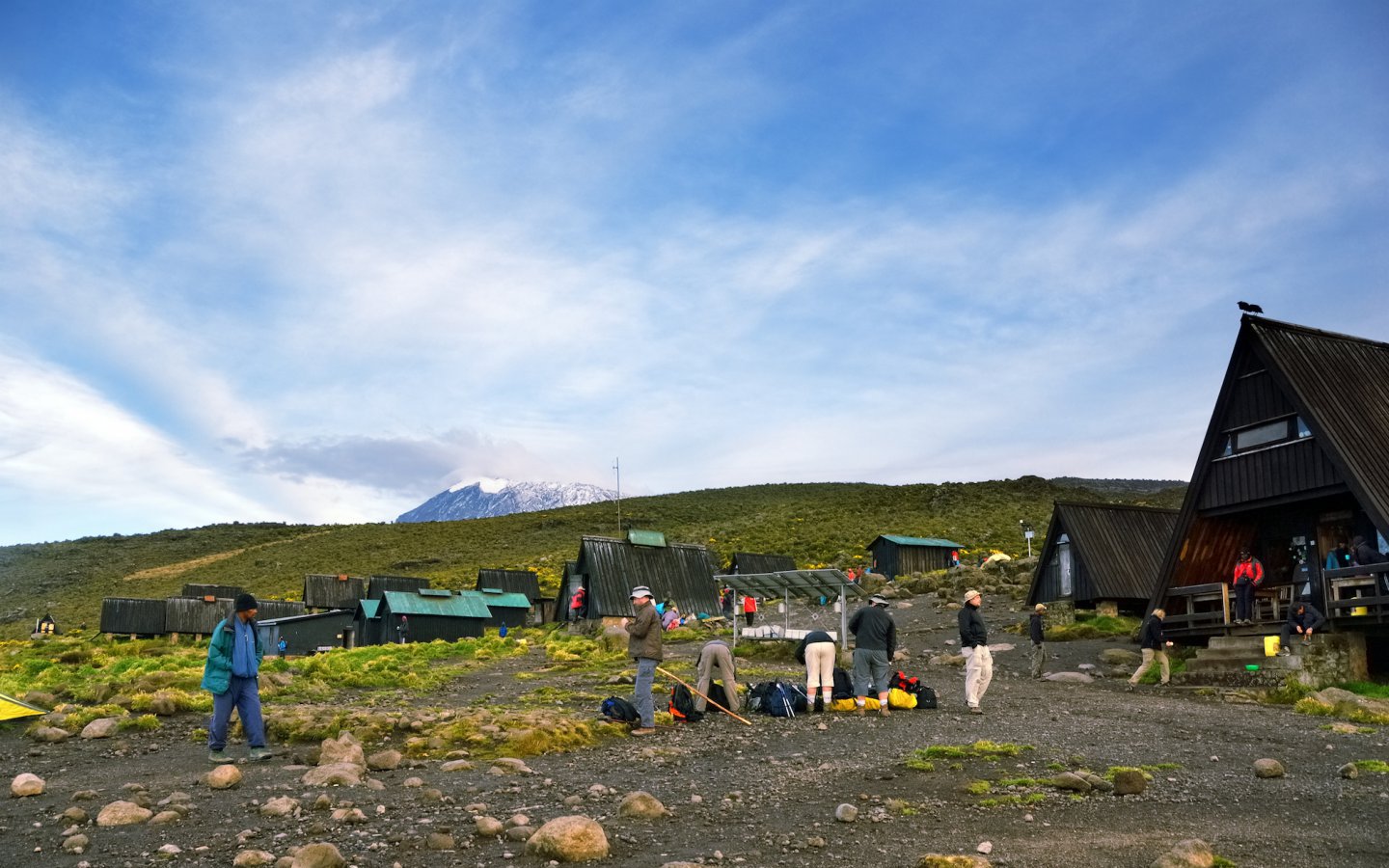 Kilimanjaro accommodations aren't five star, but the scenery is worth the inconvenience.
Slow and steady trekking is the way to go.
How about this vista?
This towering monument in Tanzania — actually made up of three dormant volcanoes, Kibo, Mawenzi and Shira — is one of the Seven Summits. Kilimanjaro's inclusion with its elevation of 5,895 m (19,341 feet) is the fourth tallest, after Mount Everest in the Himalaya, Aconcagua in Argentina and Denali in the Alaska Range.
Aside from the fact that you do not have to be an Ironman to climb it, Kilimanjaro is also unique in that it is non-massive, aka freestanding – which means it is not part of a mountain range. Kili reigns regally over the Masai steppe and flat coastal scrubland of the Great Rift Valley. And, it offers a chance to traverse five distinct climate zones, each with its own flora and fauna. It's like hiking from the equator to the North Pole.
On your way to the snow and ice-capped apex, you will cross climate zones with a temperature range of a whopping 90 degree F to 10 degrees F. At the base with its fertile volcanic soil, there's farmland and crops. This zone gives way to lush tropical rainforest, then moorlands with heather and giant lobelias, next the alpine desert (whose stark beauty climbers have compared to the surface of the moon) and finally the frigid arctic and that breathtaking view you've been working so hard toward.
The Snows of Kilimanjaro
Traversing the ice
Glacier vista straight out of Game of Thrones
Snow in the tropics? Climate zones have a temperature range from 90 F to 10 F degrees.
Aficionados will tell you there is no such thing as the best or most scenic route. It all depends on you, from physical shape to ability to acclimatize to desire to summit to preference of vistas and terrain and time available. Seven major routes include the easy and thus very popular (and oldest) Marnagu route, which takes six days, counting one day for acclimatization.
Other notable routes include: Machame (very scenic, very popular, chance to spot wildlife, more difficult), Lemosho (very scenic and panoramic, less frequented) and Rongai (featuring gentle gradients, less scenic vistas but a more remote experience). Each has its own summit success stats.
In the days of Hemingway and until the early 1990s one could do the trek with a backpack and some bare necessities. These days, the high-altitude ascent involves a registered guide and support team including porters who will pitch tents for you. Add to that the ability to deal with altitude sickness and the factor of time. Because of the need to acclimatize, experts recommend a seven or even eight-day climb to improve one's chances of reaching the summit via one of Kilimanjaro's six access routes but expert trekkers can take to the top in as few as four days.
Peak Experience
Signage: in case you didn't realize you have arrived.
The reward: high-altitude high!
Above the clouds
General good health is a must. You can train, of course, but according to experts, the body's ability to handle a decline in oxygen level is to a large degree genetic. About 35,000 hopefuls attempt the ascent each year, and success stories include a seven-year old and an 86-year old, as well as a person without arms and legs, and one in a wheelchair.
Then there's the cost of an ascent, which isn't too awful considering it's likely a once-in-a-lifetime peak experience. The average cost of a climb (including National Park access) runs around $2,500 and the average price for the whole trip including visa, special travel insurance, all the hiking equipment and gear you'll need, vaccinations and tips for the team adds up to nearly $5,000. Airfare, obviously, varies greatly according to your departure city. These figures also vary according to the company you book with, the trail you choose and more. There are more than 200 licensed operators and trekking companies to choose from, ranging from luxury to budget.
Trade winds affect the weather with the moisture they pick up from the Indian Ocean, manifesting in heavy rainfall March through May. Strong winds keep things dry June through October, which is followed again by the monsoon in November. That leaves two good windows for a trek: the chillier but less populated December–February season, and the busy but warmer July-September season.
KILI TREKKING TOUR OPERATORS
Thomson Safaris
Leaders in Tanzanian safaris and sustainable travel for over 30 years, they partner with "Kilimanjaro Porters Assistance Project, Sustainable Travel International, International Mountain Explorers Connection and Leave No Trace." They guarantee a "98 percent summit success" and offer treks ranging from budget to luxurious to intense physical challenges.
&Beyond
A luxury experiential and sustainable travel company that curates personalized luxury safaris in 15 African countries, devoted to a conservation model of "Care of the Land, Care of the Wildlife, and Care of the People."
Climb Kilimanjaro Guide
This site is full of amazing advice and everything you ever needed to know about trekking Kilimanjaro. Contact them to get quotes from their local operators who work fairly, sustainably and promote local economic development.
Ultimate Kilimanjaro
A member of Leave No Trace and Kilimanjaro Porters Assistance Project devoted to absolute best practices, this group has led celebs and senators with a high yet safe success rate.
National Geographic Expeditions
The travel program of the National Geographic Society offers small-group journeys led by National Geographic experts or expedition teams. It's certainly a trusted name in the travel business.
For more info, also consider the Tanzania Tourist Board.