Where Did High Heels Come From?
Unlike many other love affairs in history, which had tragic endings, our romance with high heels has been an enduring one. While women and men adore them for different reasons, their appeal is undeniable. They are unique icons of fashionable art and, of course, they exude a certain, dare we say, sex appeal. Frankly, when you wear heels, you get noticed.
Heels transform the female leg, elongating it in a beguiling line of sensuality, creating a perk here and an irresistible curve there. Heels are hot. Some more so than others. A towering stiletto or vampy pump has quite a different effect than, say a platform or wedge. The thinner the heel, the more haute the effect. Beauty must suffer.
2018 Heels Turn Heads
White boots are must-haves this season. Here: cigarette-lighter heels by Vetements
Playful take on the classic pump by Miu Miu's Resort
Tower of power with wide ankle cuff by Gianvito Rossi
Crystal-studded Rosalind Sophia Webster
Since we love beautiful, well-made things and engineered luxury in all of its incarnations (Hint, hint! Three whole collections worth of beautiful, well-made, luxuriously engineered things, and then some!), and are naturally terrible curious, the question arose, from whence did this art form arise? In other words, where did high heels come from? How did it happen that the human foot was fitted with an object that elevates the heel uncomfortably higher than the toes, frequently at the cost of pain and even musculoskeletal imbalances? Ouch. And the answer took us to muck-covered medieval streets, Egyptian butchers, spoiled royalty and "working girls."
The 'Classics'
Red-soled cult classics: Louboutins (Fall/Winter 2018 Preview)
Manolos forever! An arrangement from Manolo Blahnik's 'The Art of Shoes' exhibit in Milan in 2017
All About Choo!
A concrete date signifying the invention of high heels is hard to pinpoint. One can find them depicted in ancient Egyptian murals from 3,500 BC. In ancient Egypt, butchers, not fashionable belles, wore them to traipse over bloody carcasses. But they were also donned by the nobility to tower haughtily over their barefoot minions in a demonstration of "higher standing." (Get it?) In ancient Rome and Greece, too, platforms indicated the belonging to a superior social class. In 1533, Catherine de Medici chose heels for her union with the Duke of Orleans, because she didn't want to be a shrinking violet in the shadow of his very tall mistress. Circa 50 years later, both sexes in high society rocked heels to show off their elevated social position.
Old School Stilettos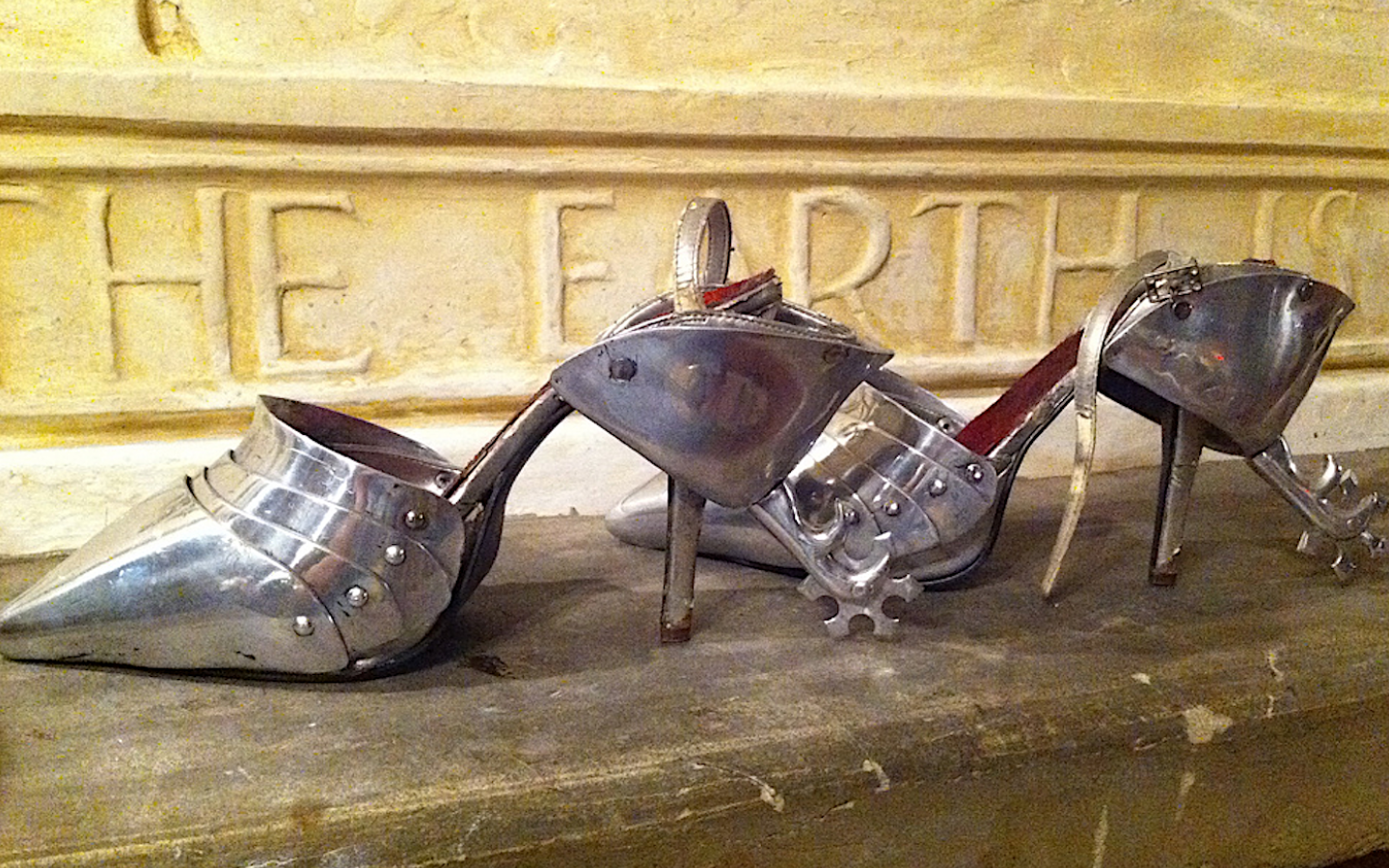 Medieval specimen looking much like torture devices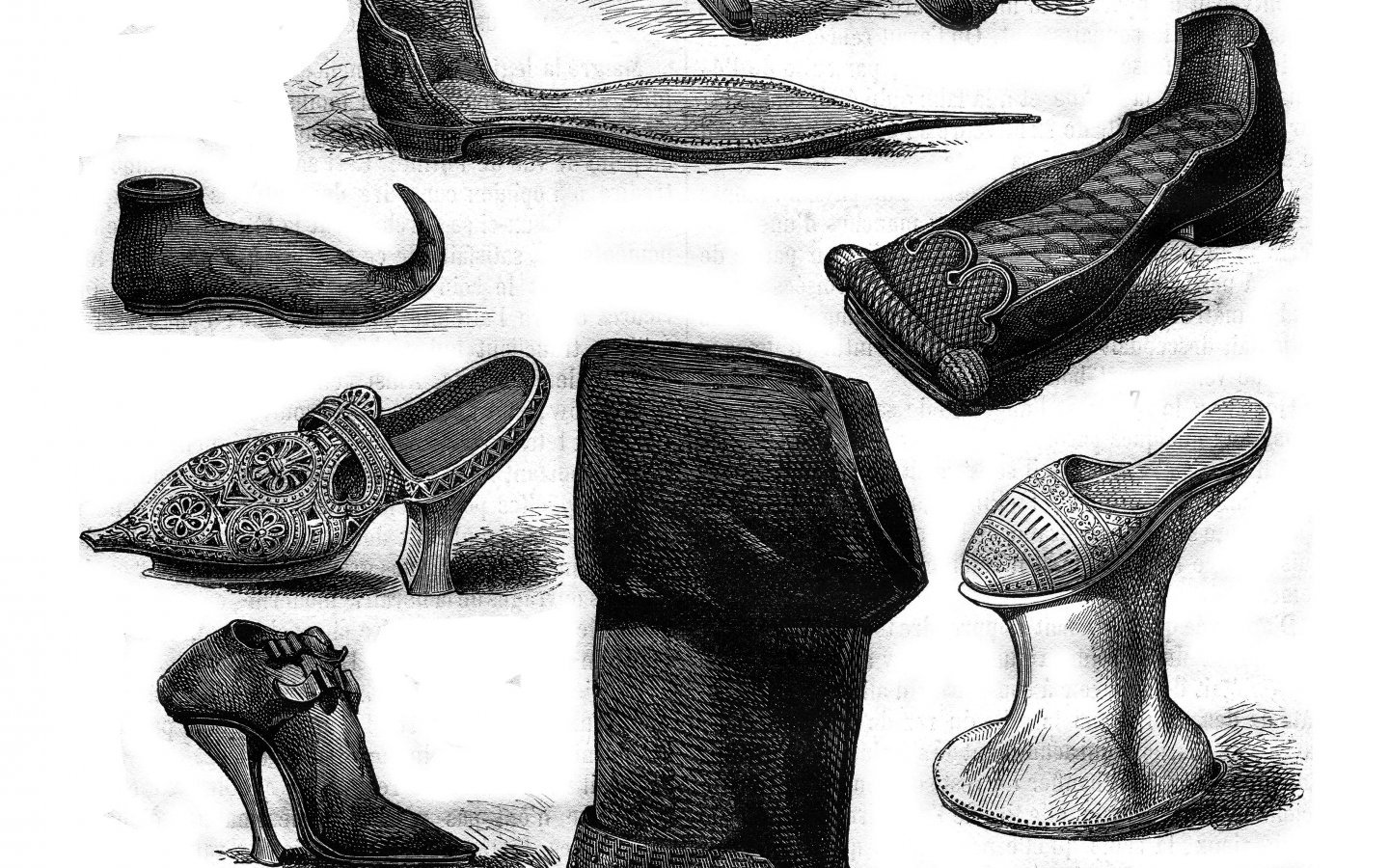 Heels throughout history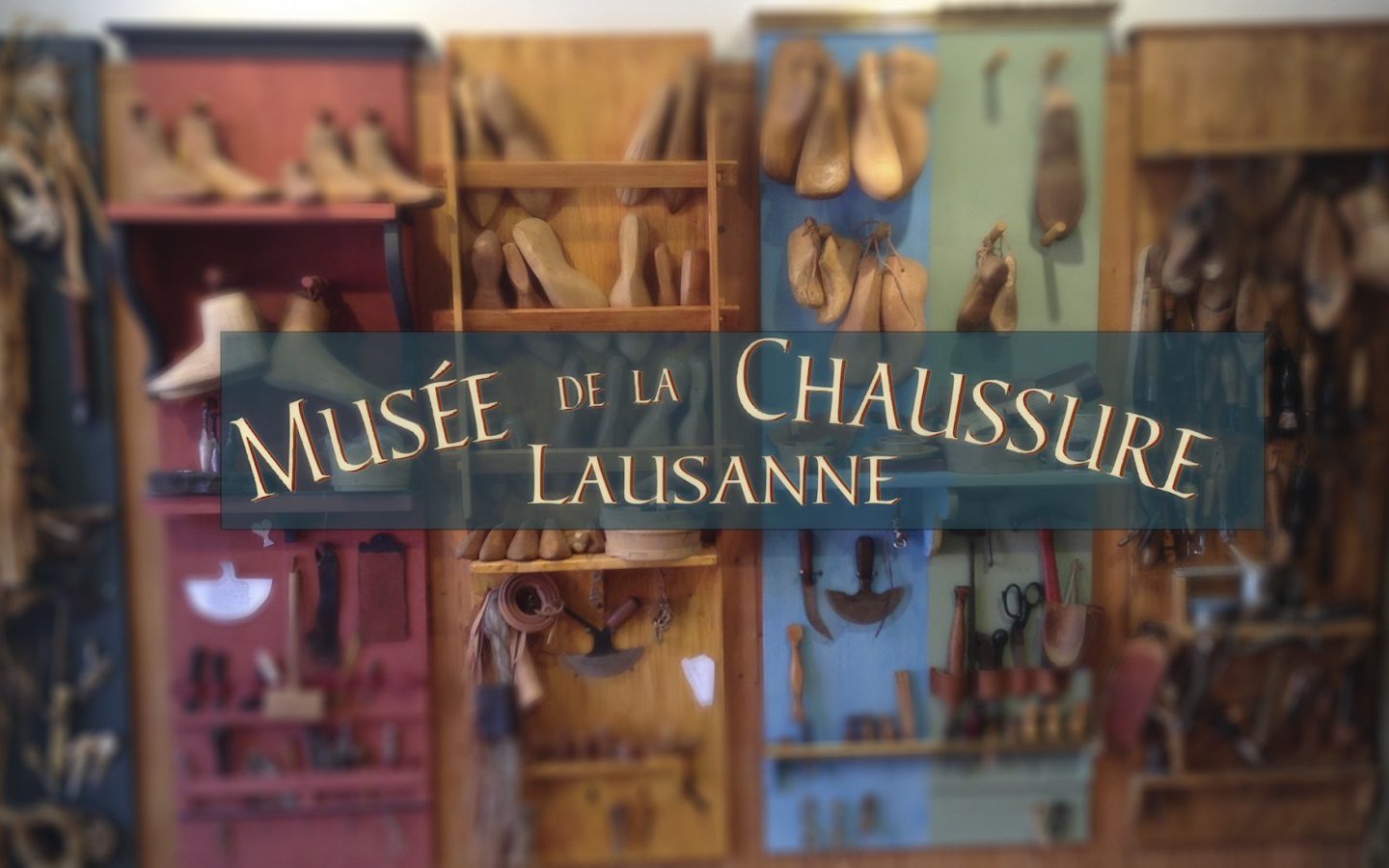 The shoe museum in Lausanne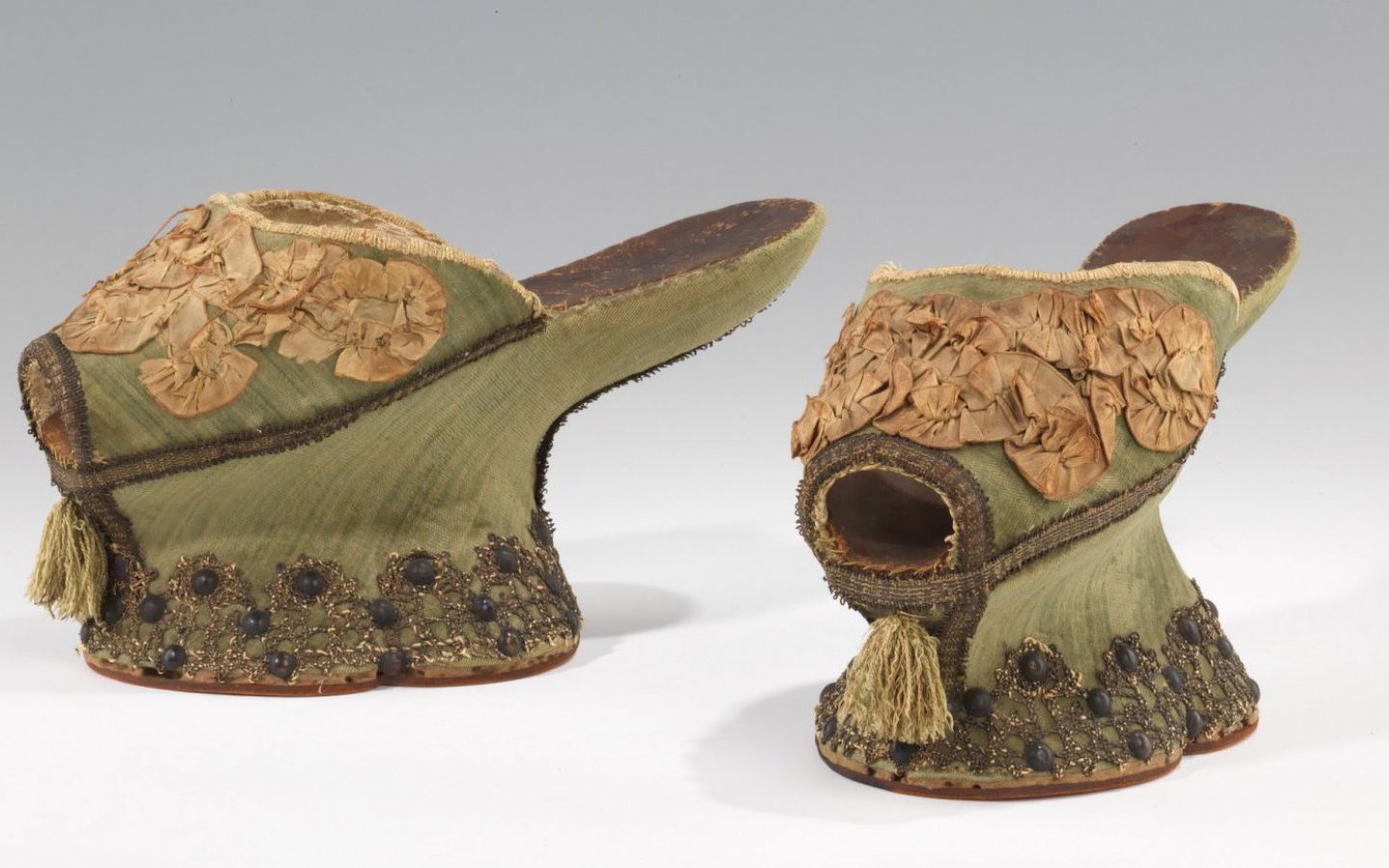 Early engineering: Chopines
Roger Vivier, the Fabergé of footwear, and his creations for Dior
Heels were associated with prostitution in both ancient Rome, Venice and Florence. In Florence for instance, prostitutes were forced to wear high heels and a bell on their heads, to set themselves apart from nobler dames. Neglect to don these devices resulted in a hefty fine. Later, they became associated wealth and nobility. This was also true in late 15th century France. The use of platform chopines required the assistance of a servant or a cane — not something everyone could afford! Some historians say that husbands supposedly encouraged their wives to wear uncomfortable chopines, so they couldn't as easily wander off the straight and narrow and into the arms of a rival. Elsewhere, they were regarded as works of evil. In England of the 17th century, the parliament could punish high-heeled women for enticing the poor male population, even trying them as witches. Massachusetts of the 18th century banned the shoes outright. What a confusing and divisive object!
Fast-forward at warp speed to the feminist 1970s. Heels were seen by some as a symbol of male oppression, along with bras and glass ceilings – while, oddly, at the same time, hippies and disco queens proudly rocked towering platforms. It was a different kind of "high." In the 1980s, the footwear style became part of the power suit look along with shoulder pads. If you were alive and kicking at the time, you might remember women in business garb and nylons taking their city lunch breaks, walking the streets in sneakers while the shoes were stashed in the purse or attaché until it was time to return to the office. Yes, that's because they are a pain to walk in. But the pain is taken in stride when it allows a woman to rise to the height of her male peers. Yes, in a sexist world, women have to be crafty!
Dior Power Pumps
The beguiling Dior Choc heel, created by Roger Vivier in 1959
'Pumps go with everything.' - Christian Dior
We end our musings with everyone's pièce de résistance: the stiletto worn by 1950s femme fatale first — and everyone else with a sense of fashion later. We have Christian Dior and Roger Vivier to thank for those. The latter originally studied sculpture, and brought his know-how to the design of footwear, recognizing the sense of confidence a high heel gave the wearer, making legs look longer, skinner, sexier and more powerful. Vivier also invented the Dior signature Choc heel, saying "This shoe's apparent simplicity represents the end-point of a long-standing quest for balance between pure and elaborate lines. In a word, with this model I have tried to reconcile simplicity and chic without resorting to oversimplified style, superfluous frills or extravagance." Marilyn Monroe put it more succinctly: "I don't know who invented the stiletto heel, but women sure owe him a lot." We second that sentiment.
HEEL HISTORY
Shoe Museum Lausanne (Lausanne, Switzerland)
5,000 years of shoe history across Europe through the ages, from Prehistoric times to the pre-industrial era.
Marikina Shoe Museum (Marikina City, Philippines)
Among the highlights: 800 pairs owned by shoe addict and former Philippine First Lady, Imelda Marcos.
Bata Shoe Museum (Toronto, Canada)
Shoe lore galore and more than 13,000 artifacts.
Shoes or No Shoes? (Kruishoutem, Belgium)
Shoes as art in an architecturally stunning setting.