Details
This Convertible bag is handmade in Los Angeles with butter-smooth Italian calfskin leather. The removable panel features original art, hand-painted on 2-ply Italian cotton canvas. Designed for flexible styling and everyday functionality, this bag is a one-of-a-kind work of art. Comes with a handle (shown) and adjustable-length strap for an off-shoulder or cross-body look. The handcrafted hardware includes custom nickel-plated bronze zipper pulls and lightweight polished carabiners. Zippered interior pocket. Additional panels can be purchased separately.
Dimensions:

Height / Width / Depth:
9.5 in / 12.5 in / 3.0 in

|

24 cm / 32 cm / 8 cm
Weight:

2.0 lbs | 0.90 kg
Primary Materials:

Premium Italian calfskin leather, 2-ply Italian cotton canvas, and nickel-plated bronze hardware.

Premium Calfskin Leather
All of our leather bags are made with the finest quality calfskin from, arguably, the best tannery in Italy. Operating continuously for nearly 100 years, this partner is one of the most modern and environmentally safe leather finishers in the world. The leather quality - color, finish consistency, absence of flaws - speaks for itself.

Convertible Art Panel
The Convertible Art Collection bags feature a removable canvas panel, hand-painted by Virgil James' artists. Each panel is original, one-of-a-kind art. They are attached to the Convertible bags with the highest quality, polished nickel zippers. Additional panel designs and styles can be purchased individually (see Panel Collections) to create any look you want.

Italian Polished Zippers
We use what most designers consider to be the finest zipper in the world. Manufactured in Italy, they are expensive but worth every Euro. They pull like a knife through butter, with just enough, but never too much, resistance. They won't catch or tear. They simply don't fail. It's not difficult to get excited about these components which exhibit the best in design and industrial technology.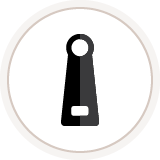 Custom Bronze Hardware
All of the zipper pulls are handmade. Each piece is designed by our artists, cast in ancient bronze using the lost-wax casting process,polished, and then plated for a bright nickel finish. Harder than rock, these pieces will last forever. Their design is intended to reflect each unique Collection.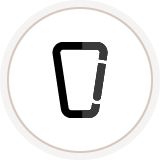 Precision Carabiners
In partnership with the best US manufacturer of technical hardware for climbing, rescue, and commercial use, we designed a high-strength removable carabiner that is used to attach the hand and shoulder straps to our bags. This custom component is a beauty to behold - functional, light, easy to use, and classically stylish. Yes, simple can be better.

Functional Design
We design our products to be used every day. We carefully consider their function and what our customers want and need. We favor clean design that simultaneously meets our performance expectations and showcases a refined classic style. Every detail is considered for its impact on convenience, usability, comfort, security, wear, and style.

Made in USA
This product is handmade in Los Angeles, California by extraordinary craftsmen with decades of experience. They use the highest quality, most authentic materials and components, sourced from around the world or made exclusively for Virgil James in the USA.

Product Guarantee
All Virgil James products are guaranteed to provide a lifetime of use. If you are the original owner, and your purchase fails to meet your expectations at any time, you may return it to us for renovation and repair or, alternatively, return it for a merchandise credit, as described in our TERMS & CONDITIONS.

Shipping & Returns
All purchases are shipped prepaid to your mailing address by expedited delivery in the United States, and to the rest of the world. International customers are responsible for any applicable taxes and duty. For purchases in new condition, returns for a credit of the full purchase amount are accepted at any time. All other returns are accepted under the terms of our Return Policy, described in our TERMS & CONDITIONS.